Make Your New Year's Resolution Last: Aspire, Ask, Act, Achieve
with Swami Gurucharanananda "Mataji"
January 17 - 19, 2020
Do you need to make a meaningful change in your life? Are you ready for a transformation?
Create a practical plan to achieve your goals using the "4 A's": aspire, ask, act, and achieve. Each step represents a strong intention to follow to achieve anything in life. The teachings of Integral Yoga integrate our human needs with the five basic paths of Yoga: Hatha, Jnana, Bhakti, Karma, and Raja. With dedication, your practices will blossom into an easeful, peaceful, and useful life. You can even reach the highest goal of realizing spiritual union!
Bring an aspiration with you for this workshop and witness how applying this sequence will move you towards success.
In this workshop, you will:
Learn about the four A's as a powerful practice to achieve your goals
Practice Integral Yoga and meditation to help you to approach life's obstacles with a clear and peaceful mind
Receive guidance about how to achieve your personal aspirations
Go within, connect with your True Self, and receive the clarity and inspiration needed to fulfill your great vision.
Testimonials
Mataji is the real deal. She truly is a real teacher and has such love, which shows in every answer and every teaching. It was a privilege to be in her company. — Past Participant

Mataji was inspiring and delightful. After her closing statements, I feel prepared to start anew, with loving acceptance. — Rhonda Gallagher
Presenter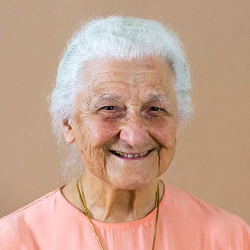 Swami Gurucharanananda "Mataji"
Swami Gurucharanananda, lovingly called Mataji, is a senior sannyasi (monk) and disciple of Gurudev, Sri Swami Satchidanandaji Maharaj. She lives at Yogaville and serves on the Sannyas Board. Mataji is a guided meditation leader and Hatha Yoga teacher, an inspiring speaker, Integral Yoga® mentor, and private retreat guide. She loves to offer pujas (worship service), read Sri Gurudev's teachings at lunch, and play the violin as a wake-up call in the dorms! In 2014 she was awarded the Swami Satchidananda Lifetime Service Award. Mataji always has a loving, joy-filled smile ready for you!
Learn more about Swami Gurucharanananda "Mataji"