Pranayama for Overcoming Suffering
with Swami Karunananda, E-RYT 500
September 27 - 29, 2019
Relax, recharge, and recover your natural peace and ease.
There is a saying: "Pain is unavoidable, but suffering is optional." So much depends on our attitude, approach, and the tools that we use.
The yogic breathing techniques enhance physical health and mental well-being. With regular practice, pranayama can open a portal to a state of supreme peace and joy.
In this workshop, you will explore the underlying cause of all suffering and how pranayama (breathing practices) can be a tool to overcome it. You will refine and deepen your practice of the various yogic breathing techniques and utilize deep relaxation (Yoga Nidra), pranic (life force energy) healing visualization, and meditation to amplify the benefits.
As Sri Swami Satchidananda says: "There is no better health tonic than Yoga asanas and pranayama. Health is your birthright, not disease; strength is your heritage, not weakness; courage, not fear; bliss, not sorrow; peace, not restlessness; knowledge, not ignorance."
Continuing Education (CE) Opportunities
Testimonials
The integration of theory and practice, the balance set was bizarrely perfect. Swami Karunananda was absorbing, extraordinarily attentive, and a joy to listen to and practice with.—Nina

Swami Karunananda has an amazing capacity to explain complex things in an easy way.—Past Participant
Presenter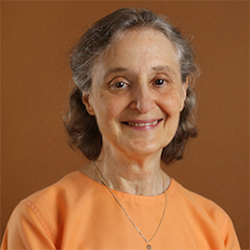 Swami Karunananda, E-RYT 500
Swami Karunananda, is a senior disciple of Sri Swami Satchidananda. In 1975, she was ordained as a monk into the Holy Order of Sannyas. She has been teaching all aspects of Yoga since 1971, and specializes now in workshops, retreats, and teacher training programs that focus on the science of meditation, the philosophy of Yoga, personal transformation, and Yoga breathing techniques for better health and wellbeing. In 1989, she developed and has taught, the Integral Yoga® Teacher Training programs in Raja Yoga and in Meditation. Swami Karunananda served as president of Satchidananda Ashram–Yogaville in Virginia and in California, as well…
Learn more about Swami Karunananda, E-RYT 500