Awakening Bhakti: A Celebration of Divine and Human Love
with Jai Uttal, Visvambhar "Vish" Sheth and Gaura Vani
October 25 - 27, 2019
Bhakti Yoga is the path of personal relationship with Spirit, with God, with Goddess; it's a relationship that includes all the flavors and moods of the human heart. In the journey of Bhakti, your emotions become the fuel to reconnect you with the Divine and help you to find healing and wholeness within yourself. Through singing kirtan you can explore, express, and share the deepest caverns of your soul—and ultimately find the eternal springs of love.
For everyone who loves and practices kirtan (chanting the ecstatic songs of ancient India), this workshop will fuel your soul. Jai will share and demystify some of the secrets of kirtan. With just a little understanding of music and rhythm—and a lot of self-acceptance—we all can sing, lead, and share our hearts with others. The practice of chanting can become our teacher, guiding us home.
Saturday Satsang Concert Only: $30 in advance, $40 at the door
Bring your children with you this weekend!
Sign them up here for the Kid's Yoga Program, a childcare program for guests who come to visit with children ages 5–11. While you enjoy your program, you can feel confident that the kids will be well looked after by our experienced staff and entertained through a variety of fun activities.
A Short Film about Jai Uttal
Testimonials
Unlock a new heart space by singing, storytelling, and blissfully connecting with Jai Uttal. His willingness to share his own struggles along his spiritual journey created a safe space for me to let go of expectation and self-doubt and just be in Bhakti. — Heather Acord

I had a very soulful journey with Jai and Vish. It was the best kirtan in the world! — Deepika Green

My only complain is that it had to end. I will definitely be back next year! — Past Participant

Everything about this program was exceptional. The Yogaville "experience" cannot be adequately described in words—think kindness, peace and bliss. The content (kirtan/chanting) was meditative and soul-stirring. In a word: Perfect!! — Joel Bruno
Presenters
Jai Uttal
Jai Uttal, a Grammy-nominated sacred music composer, recording artist, multi-instrumentalist, and ecstatic vocalist, combines influences from India with influences from American rock and jazz, creating a stimulating and exotic multi-cultural fusion that is truly world spirit music. Having traveled extensively in India, where he met many beautiful saints and singers, Bhakti Yoga became his personal path. Jai has been leading kirtans around the world for more than 45 years, creating a safe environment for people to open their hearts and voices. Celebration, meditation, dance of the devas, love song to the universe… Jai Uttal's new album Roots, Rock, Rama! (out…
Learn more about Jai Uttal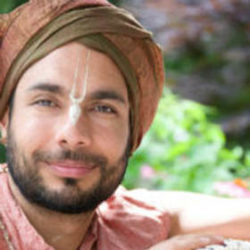 Visvambhar "Vish" Sheth
Visvambhar "Vish"  is the lead singer of the internationally acclaimed group 'The Mayapuris', a headlining kirtan group that has rocked stages from India to Florida, Australia to South Africa. Starting from before the age of 5, Vish has spent his life leading kirtans in the ISKCON (Vaisnava) tradition. He is a multi-instrumentalist and a master of the Mridanga drum, and he performs in traditional as well as fusion styles. Vish started performing in the modern Yoga studio culture in 2007, and since then he has performed at countless studio gatherings, music festivals, and well-known spiritual venues like Bhaktifest, Omega Institute,…
Learn more about Visvambhar "Vish" Sheth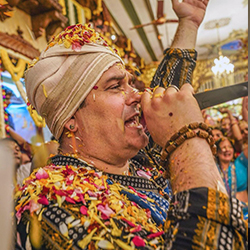 Gaura Vani
Gaura Vani is a multi-disciplinary artist—fluent in music, film, and visual arts. He is best known for his mantra music performances. Gaura Vani's events are unifying and transporting—a mix of participatory rhythm and song, story and dance. He has traveled in Africa, the Americas, Europe, Asia, and Australia performing both as a solo artist and with his sacred music ensembles, "The Hanumen" and "Juggernauts". Gaura Vani began studying sacred Indian music at the age of six in the ancient temple town of Vrindavan at a traditional Gurukula school. He continues to share the magic he received and performs at festivals…
Learn more about Gaura Vani