Surfing the Sea of Change
with Swami Vidyananda, E-RYT 500, C-IAYT and Raama Das, E-RYT 500, C-IAYT, YACEP
July 26 - 28, 2019
It may seem that there's nothing you can do about the speed of change in your life and the world around you. The economy fluctuates, your career has ups and downs, and important family decisions often need to be made quickly. Yet you have more control than you may think.
The stress of change can be an impetus to find and master the vast power of your inner being. Yoga can teach you to live from your center to balance your thoughts, your emotions, and the way you manage challenges.
This workshop will teach you:
Yoga postures, breathing, and relaxation to find balance on the go
Yoga wisdom to provide you with coping techniques for daily life
How to examine your beliefs and develop resilience to ace the future
What to remember for times of turbulence
This workshop is for both beginners and experienced students.
Continuing Education (CE) Opportunities
Testimonials
Swami Vidyananda is such a wonderful presenter: brilliant, self-effacing, approachable, funny, and knowledgeable. Pure professionalism. — Sivani C.

This is honestly one of those experiences that I will take with me for a long time. So many profound moments! And being so recharged and renewed is a blessing. — Wendy Kump

I love Swami Vidyananda—she is unpretentious, funny, incredibly knowledgeable, honest, and very real. — Past Participant
Presenters
Swami Vidyananda, E-RYT 500, C-IAYT
Swami Vidyananda began practicing Yoga in 1969 and has been teaching Integral Yoga® and training Yoga teachers since 1973. She became a swami (monastic) in 1983. She has taught and trained Yoga and meditation teachers throughout the US and Canada, as well as Australia, Europe, and India. She presently lives at Satchidananda Ashram–Yogaville, VA, where she teaches all branches of Integral Yoga, including Hatha, Raja, and Jnana Yoga, meditation, and yogic lifestyle. She continues to travel widely, training Yoga teachers and offering workshops on meditation, stress management, Yoga and the emotions, and mid-life meaning. Before becoming a Yoga teacher, Vidyananda…
Learn more about Swami Vidyananda, E-RYT 500, C-IAYT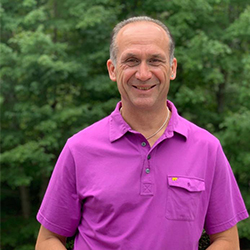 Raama Das, E-RYT 500, C-IAYT, YACEP
Raama Das is a former director of the Integral Yoga® Teachers Association and has been instructing Integral Yoga since 2009. He is a lead trainer for the Integral Yoga 200-hour TT at Yogaville and co-presents both the 200 and 500-hour Yoga Alliance programs at Heal Me Institute in Fredericksburg. Raama recently received certification as a Yoga Therapist through the International Association of Yoga Therapists (IAYT), having studied Yoga programs for specific health conditions, including, anxiety, depression, cancer, heart disease, arthritis, and addiction. He is also certified as a teacher of Intermediate Hatha, Raja Yoga, Meditation, Stress Management, Yin Yoga, and Yoga for…
Learn more about Raama Das, E-RYT 500, C-IAYT, YACEP