Mindfulness, Compassion, and Difficult Emotions
with Susan Carol Stone, Ph.D.
April 26 - 28, 2019
We all want love and happiness to illuminate our lives, but, without recognizing it, we often stand in our own way. This program focuses on working kindly with our difficult emotions by cultivating the practices of mindfulness—becoming more aware of our reactions—and compassion, especially self-compassion. These time-honored practices, which are now confirmed by science to be effective, are being adopted worldwide and integrated into spiritual and religious programs, healthcare facilities, schools at all levels, and even the military.
In this experience-based, interactive workshop, you will:
Learn time-tested mindfulness and compassion practices as a means of coping with difficult emotions
Establish a personal mindfulness program
Learn to develop a wholesome, kinder relationship with your critical inner voice
Explore why it is essential to hold difficult emotions with compassion
Be able to take these powerful practices home so that they can support you long-term in your daily life
Mindfulness practice can powerfully complement therapy work. If you are in therapy, it is advisable to consult with your therapist before enrolling. An ability to stay with your difficult emotions as they arise is a prerequisite for enrollment.
This program is appropriate for newcomers as well as seasoned mindfulness practitioners. Individual conferences with Susan will be available. Silence will be encouraged outside workshop sessions.
Testimonials
Everyone should take this course. It gives you a new way to create some space for yourself and others. Everyone can benefit from mindfulness, compassion, and working with your difficult emotions. — Jessy Farrell

There are no words to describe the beautiful effect this teacher and program has had on my life. Dr. Stone is profoundly experienced in reaching the heart and offering practical ways to be kind and loving. — Min Karuna Dahn

Dr. Stone did an amazing job unlocking emotions I've been holding in for years. I feel like a burden has been lifted. — Robin Leenders

This was my first time for such an experience, and it was excellent. Dr. Stone is very authentic. Her teachings come out naturally from her intellect, knowledge, and spiritual understanding. — Raj Patil, Past Participant
Presenter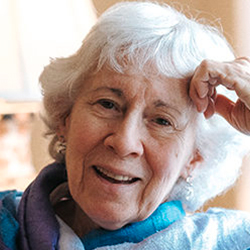 Susan Carol Stone, Ph.D.
Dr. Susan Carol Stone has practiced mindfulness for thirty years. She teaches Mindfulness-Based Stress Reduction (MBSR) at the University of Virginia and is a teacher with the Insight Meditation Community of Charlottesville. A graduate of the Community Dharma Leader Program at Spirit Rock Meditation Center (CA), she leads mindfulness retreats and workshops, mentors in an online mindfulness teacher training program, and has taught mindfulness in a variety of settings, including maximum security prisons and middle schools. She has lived in Zen and Theravadan Buddhist monasteries and is ordained as a Zen lay priest. Susan is also a Reiki master who…
Learn more about Susan Carol Stone, Ph.D.