Saturday Concert with Sean Johnson and The Wild Lotus Band
with Sean Johnson, E-RYT 500
July 6, 2019
$30 Advance Purchase/$40 at the door
Join us for a concert with Sean Johnson and the Wild Lotus Band, one of the guiding voices of kirtan music in the United States.
As part of their weekend workshop, Bhakti Yoga and Creativity Immersion, Sean Johnson and the Wild Lotus Band will perform a special concert for the Saturday night Satsang. All are welcome.
Sean Johnson and The Wild Lotus Band (Alvin Young and Gwendolyn Colman) have been reinventing the Yoga soundtrack and giving new voice to kirtan (chanting of divine sounds) with their dynamic songs and distinctive New Orleans style. Merging ancient mantras with roots, rock, funk, gospel, and world grooves, the band offers a soulful, unforgettable spiritual music experience.
Free your heart and stir your soul during this interactive evening with a favorite headliner at Yoga and music festivals nationwide.
Doors open at 6:45 pm
Program begins at 7:30 pm
Presenter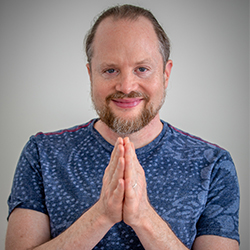 Sean Johnson, E-RYT 500
Sean has been teaching Yoga and guiding kirtan for over twenty years. He is the founder of Wild Lotus Yoga studios in his native New Orleans, and Soul School, an interdisciplinary Yoga teacher training program that focuses on teaching Yoga with skill and imagination. He has a master's degree from Naropa Institute- Oakland, with focus on teaching chant as spiritual practice. He has written for Yoga Journal and is the co-curator of Putumayo World Music's music-for-Yoga compilations including Yoga, World Yoga, Yoga Lounge, and Acoustic Yoga. In 2005, he founded the Wild Lotus Band as a post-Hurricane Katrina philanthropic music project, raising funds across…
Learn more about Sean Johnson, E-RYT 500