Open Your Heart: A Bhakti Yoga and Creativity Immersion
with Sean Johnson, E-RYT 500
July 5 - 7, 2019
Join critically acclaimed spiritual music artists Sean Johnson and The Wild Lotus Band for a Bhakti Yoga and creativity immersion that will open your heart and rekindle your soul.
Sometimes in life and Yoga practice, we yearn for creative inspiration that reinvigorates our spirit. This retreat is an invitation to drink from the life-giving well of Bhakti Yoga, the Yoga of the heart. Sing from the depths of your soul, tap into your inner poet, and rejoice in the awakening of your unique voice and creativity during this inspirational weekend.
Sean and the band will create a safe and invigorating space for you to:
Tune your being with singing meditation, kirtan chanting, song, and dance
Explore your own life story more deeply through interactive storytelling, mythology, coloring, and journaling
Merge your physical and emotional consciousness with a heart-centered Vinyasa Yoga practice accompanied by enchanting live music
Spark a romance with life itself and explore the love poetry of the Bhakti tradition
The retreat will be accompanied by the live grooves of The Wild Lotus Band—a favorite headliner at Yoga and music festivals nationwide—featuring guitar and bass player Alvin Young and percussionist and vocalist Gwendolyn Colman.
All are welcome to attend.
Continuing Education Opportunities
If you can't attend the full workshop but would still like to see Sean Johnson and The Wild Lotus Band live, join us for the Saturday night Satsang Concert
Tickets: $30 in advance and $40 at the door
Doors open at 6:45 pm
Tentative Schedule
Friday Evening
Open the Heart: An Evening of Storytelling and Kirtan with Sean Johnson and The Wild Lotus Band
Tonight we open the gates of our heart and set the tone for our weekend retreat with an intimate evening of storytelling, live music, and kirtan. Sean will share stories both from the mythology of Yoga as well as from his personal journey to help bring more meaning and depth to the songs and chants we'll sing together.
Saturday Morning
Bhakti on the Mat: The Mythic World of Yoga
Merge the heart-opening qualities of Bhakti Yoga with the sensuality and vitality of asana. This deep and playful all-levels practice includes storytelling from the mythical world of Yoga, soul-stirring kirtan, graceful vinyasa sequences, imaginative meditations, and evocative live music. Some experience with asana is recommended. Sean and the band have guided this workshop at festivals and conferences across the country, including sold-out attendance at The Yoga Journal Conference and Bhakti Fest.
Saturday Afternoon
Yoga of Sound Playshop
Explore one of the most ancient and powerful forms of Yoga—the Yoga of sound vibration. Learn about how sound has been used to shift consciousness in cultures around the world as well as in the fields of science and medicine. Experience a special vocal Yoga singing practice designed to help you tune the instrument of your body. Dive into a playful rhythm session guided by Gwendolyn to help you get in touch with your inner drummer, and savor the power of delightfully bringing song and dance together to awaken joy and brighten your soul.
Saturday Evening
An Evening of Mantra Music with Sean Johnson and The Wild Lotus Band
Free your heart and stir your soul in this interactive evening of ancient mantras given new voice through dynamic songs that merge New Orleans roots, rock, gospel, and world grooves.
Sunday Morning
Bhakti on the Mat: Poetry of the Heart and Body
Join Sean and the band for another deep and playful all-levels practice that includes storytelling, heart-opening poetry, soul-stirring kirtan, graceful vinyasa sequences, imaginative meditations, evocative live music, and a safe space for you to awaken your inner poet. Bring a journal and crayons or magic markers.
Testimonials
I'm now completely addicted to [their] CD. It starts my every morning! — Valli

The kirtan music on instant replay in my dreamland is by Sean Johnson and The Wild Lotus Band. — Deborah

Recognizing some of the mantras [on their CD] allowed me to deepen my practice spiritually…perfect integration for practices rooted in vinyasa. — Laura

Bhakti Fest Attendees
Presenter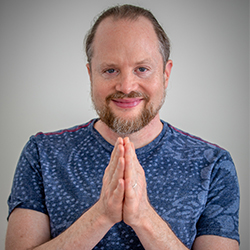 Sean Johnson, E-RYT 500
Seán is a Yoga teacher, teacher trainer, and musician who teaches at conferences and retreat centers internationally including Yoga Journal, Kripalu, Bhakti Fest, and The German Yoga Conference. He is the founder of Wild Lotus Yoga in his beloved hometown dubbed "New Orleans' Home for Heart-Centered Yoga," and Soul School, an interdisciplinary online Yoga teacher training program that focuses on teaching Yoga with skill, heart, and imagination that he guides with Mitchel Bleier. He has a master's degree from The Naropa Institute-Oakland with a focus on teaching chant as a spiritual practice. He apprenticed there with south Indian musician and…
Learn more about Sean Johnson, E-RYT 500