Embrace Your Weird: Yoga, Meditation, and Writing to Manage Anxiety
with Lisa Jakub
September 28 - 30, 2018
Embrace your weird and learn to live with more ease and authenticity, whether you have a diagnosed anxiety disorder or just experience everyday stress. With Yoga asana (posture) practice, meditation, writing exercises, and mindful group dialogues about managing anxiety, you can learn to de-stress and find tranquility in daily life.
Both Yoga and writing offer ways to tap into the heart of the present moment and see what is true and real in everyday life. The key to more inner peace lies in learning to drop the story and access the serenity of the present moment so we can stop obsessing about the past and future. For those of us with anxiety, that may seem like an impossible task, but there are proven ways to retrain the brain and create healthier habits.
This fun and engaging weekend provides opportunities (but no obligations!) to share your creative work in a supportive community and return home with tools to create more happiness and contentment in daily life. Author, Yoga teacher and life-long anxious person Lisa Jakub will discuss tangible ways to understand your inner critic, increase compassion for yourself and others, and access the joy within that often feels smothered by stress.
Testimonials
She's articulate, she's smart, she's funny, and she's genuine, warm, and friendly. But most of all, she has a story to tell. — Donna Talarico, Founder and Publisher, Hippocampus Magazine

Lisa made [the workshop] a safe, welcoming space, and shared her personal stories in a way that illustrated what she taught and made it even more accessible. I am looking forward to putting all these tools to good use!

There wasn't one thing Lisa said this weekend that was not incredibly valuable. As someone who is in education—she is one of the best teachers I've ever had.

To define the weekend in one word? Transformative. There are not words of 'thank you' accurate enough to explain everything I felt and experienced. Lisa was able to create a very unique, safe, supportive environment that allowed for so much introspection, sharing, and healing!! It was an amazing experience being with her and I'm so grateful for her willingness to share so deeply of her journeys and to give so much of her time and energy reaching out to us!

— Past Participants
Presenter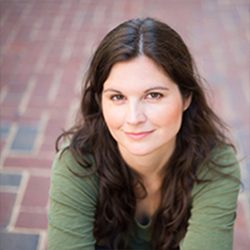 Lisa Jakub
Lisa is an author, Kripalu Yoga teacher, and retired actor who has more than forty film and television credits to her name, including Mrs. Doubtfire and Independence Day. At the age of twenty-two, Lisa retired from her eighteen-year acting career in search of a life that felt more authentic to her. She has found a happier, more purposeful life in Virginia as a writer, teacher, and an advocate for mental health awareness. Her latest book is Not Just Me: Anxiety, Depression, and Learning to Embrace Your Weird.
Learn more about Lisa Jakub