Bridging the Divide: Creating Inclusive Yoga Spaces
with Dianne Bondy, E-RYT 500
June 7 - 9, 2019
Join celebrated Yoga teacher and social justice activist Dianne Bondy for a workshop that seeks to bridge the divide and make Yoga an inclusive practice for all shapes, sizes, and abilities. Through in-depth, open forum discussions, practical hands-on asana (posture) labs, and interactive Yoga practices, you'll discover how to deconstruct the values, norms, and perceptions that guide the current Western view of Yoga, beauty, and success. Let's finally bridge the cultural divides that keep us segregated.
During this workshop you will learn how to:
Apply yogic principles and practices in order to encourage diversity in Yoga
Create inclusive spaces where all bodies are invited to the Yoga mat
Structure accessible Yoga classes using socially informed language, innovative modifications, and conscious movements
Broaden your teaching style so that it caters to individuals and communities that are currently underserved
Presenter Interview
The audience for this workshop includes all those seeking empowerment and who are interested in creating a more inclusive environment both on and off the Yoga mat.  
This workshop will benefit Yoga students and teachers, and professionals that work with diverse, at­-risk, and/or underserved communities including teachers, social activists, nonprofit organizations, child and youth care workers, therapists, social workers, psychologists, and community leaders.
Continuing Education (CE) Opportunities
Tentative Schedule
This workshop features a series of modules that focus on accessibility, self-acceptance, asana (posture) practice, and self-study.
Friday Night – Community Class and Dharma: Come as you are, use what you have, do what you can
This session offers an accessible, inclusive and challenging asana practice. All bodies and abilities are welcome to enjoy a customized practice that connects your breath, body, and intention on the path to self-acceptance. The practice will be followed by an interactive dialogue on how we use Yoga, self-care, and self-study to become more conscious and empowered. Please bring a pen, paper, and your curiosity.
Saturday Morning – Re-Imagining the Body: Modern Yoga as a tool for body peace
How do we make peace with our bodies by using both the traditional and modern Yoga teachings, meditation and self-reflection as tools to change our internal dialogue. It's time to change the narrative to self-acceptance and inquiry. How do we invite all bodies on the mat? This session will include a gentle, reflective asana practice with a focus on letting go of the things that keep us small.
Saturday Afternoon – Creating Accessible Yoga Spaces/Asana Playground
In Yoga, lila is the play of the universe. As children we learn by playing, as adults, we often learn by doing. In this workshop, we explore playing with asana and doing joyful movements. We will explore how asana works in our bodies. We learn our customize poses for any ability. For students, you will learn how to customize your practice to fit your body. As teachers, how to create inclusive and customized classes for all bodies. This session will challenge your ideas around asana and teach you how to create an accessible Yoga inclusive space. We will explore innovative warm-ups and sequencing, inclusive ways to incorporate props. Variations on:
•   Standing poses
•   Seated, twists and supine poses
•   Transitions
•   Accessible vinyasas
•   Balancing
•   Yoga at the wall
Bridging the Divide: Yoga, Body Image, Diversity, and Accessibility
Bring your questions, your ideas, and your asana and let's flow freely as we share in this inspiring practice.
Sunday Morning – Yoga, Connection, and Social Justice 
Namaste: The light in me bows to the light in you. To me, this means finding true empathy. I see the same humanity in you as I see in me. We are connected by the same source of light. The meaning of Namaste invites us to investigate how we show up in the world. Using the teachings of Yoga, we will explore the conceptions of social justice as they align with the spiritual teachings. How do we use our Yoga practice to create justice, equity, equality, empathy, and conscious connections? How do we use our Yoga practice to truly unite?
This workshop combines joyful movement (Yoga asana), breathing and meditation, and self-study, as well as engaging interactive lecture and dialogue on how we move forward with real purpose in the world.
Testimonials
Wow! I had tears a few times as I listened to and felt the intention behind the words in the first lesson. I'm pretty selective with the teachers I choose and thought I was being careful in deciding which classes to attend. It seems I was just donning an invisible cloak of denial and defense against the unspoken (and sometimes spoken) expectations and judgement. I didn't realize the slow-moving and cumulative toll they were taking on my power and self-worth. Thank you for this training! I can't wait to be a different kind of teacher and share this gift of inclusive Yoga. — Lisa Parks

Dianne's enthusiasm is infectious. As a teacher of teachers I am in awe of her ability and experience in anticipating areas of nurturing need in the participants. She creates and holds a safe and inviting learning environment. — Stacy S.
Presenter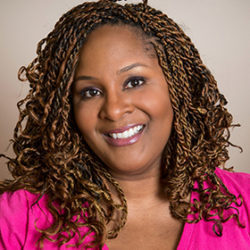 Dianne Bondy, E-RYT 500
Dianne is a celebrated Yoga teacher, social justice activist, and leading voice of the Yoga For All movement. Her inclusive view of Yoga asana and philosophy inspires and empowers thousands of followers around the world regardless of their shape, size, ethnicity, or level of ability. She applies over 1000 hours of training to help her students find freedom, self-­expression, and radical self-­love in their Yoga practice. She shares her message and provides millions of followers with affordable access to online Yoga classes, workshops, and tutorials at her virtual studio: Yogasteya.com. Dianne contributes to Yoga International, Yoga Journal, Do You Yoga,…
Learn more about Dianne Bondy, E-RYT 500