LifeForce Yoga to Manage Your Mood
with Amy Weintraub, E-RYT 500, C-IAYT, MFA, YACEP
April 13 - 15, 2018

LifeForce Yoga® interweaves the power of an ancient discipline with that of current science. In Yogaville's safe and accepting environment, you'll learn Yoga practices that can help you maintain your optimum mental health, as well as methods to safely release chronically held tension and repressed emotion in your physical and emotional body.
Presenter Interview
This workshop offers:
Breathing techniques that regulate the emotions (pranayama and kriya)
Meditations that lift the mood
Affirmations (sankalpa)
Guided visualizations (bhavana)
Tones that regulate the emotions (mantras)
Hand gestures that affect different areas of the chakra system and the body (mudras)
Yoga asanas suitable for all levels
You'll leave feeling refreshed and renewed, equipped with ancient strategies to revitalize your practice and manage your mood. Medical professionals and Yoga teachers will learn techniques they can use to help their clients to focus, relax, and have greater access to their feelings.
In Yoga, one shoe doesn't fit all—all bodies, all levels of experience, all moods. Learn how to assess the mood—yours and your students—and design a menu of practices to meet you where you are.
Fulfills the prerequisite for the LifeForce Yoga® Practitioner Training.
An interview with the author of Yoga Skills for Therapists, Amy Weintraub.
Continuing Education Opportunity
Yoga Alliance (YA): Approximately 7 contact hours

Integral Yoga Teachers Association (IYTA) can provide you a CE certificate of your program's total contact hours. For more information, email

[email protected]

.
Testimonials
[This is a] great program regardless of your struggle with depression. Everyone can benefit from these life skills. [They are] wonderful additions to any existing practice. — Laura Monroe

My patients can now experience the same effects as many medications—without having to take medication! — Deborah L.

LFY blends science and soul. It equips teachers, healers, therapists, and social workers with the knowledge and confidence needed to heal others suffering from mood disorders and trauma. — Lindsey Wrable

It helps to have techniques that are effective and immediate for clients who have high levels of anxiety with panic and OCD, MDD, and even self-harming behaviors. The skills for trauma were compassionate and met the client where they were at, while not leaving them vulnerable and focusing on comfort and safety. — Meagan Simms

I have gained a softer heart, more receptive mind, and tools to enrich both personal and professional aspects of my life. — Regina Trailweaver, LICSW, clinical social worker
Presenter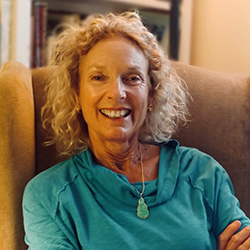 Amy Weintraub, E-RYT 500, C-IAYT, MFA, YACEP
Amy is the founder of the LifeForce Yoga Healing Institute and has been a pioneer in the field of Yoga and mental health for over twenty-five years. She is the author of Yoga for Depression, Yoga Skills for Therapists: Effective Practices for Mood Management, the award-winning novel Temple Dancer, the new card deck Yoga for Your Mood: 52 Ways to Shift Depression and Anxiety, and numerous articles and book chapters.  She offers professional trainings and workshops for mental health and Yoga professionals and speaks at international Yoga and psychology conferences. Amy's evidence based LifeForce Yoga protocol is in use in…
Learn more about Amy Weintraub, E-RYT 500, C-IAYT, MFA, YACEP