Stress Management Teacher Training – 2018
with Swami Ramananda, E-RYT 500 and Swami Vidyananda, E-RYT 500
July 11 - 22, 2018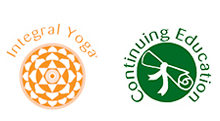 Stress is widespread in the world today and many people are turning to Yoga for Stress Management. This training is designed to give you the essential skills and confidence to teach Yoga as Stress Management in a wide variety of environments, including the workplace, healthcare facilities, schools, and many other venues.
The training provides you with the fundamentals of understanding stress and teaching the physical and mental Yoga practices that empower people to cope with stress.
You will learn:
Asanas, primarily chair poses, adapted for workplace, healthcare, and other settings
Breath work, meditation, and mindfulness as stress reduction tools
Yoga methods for centering, developing a positive attitude, and balanced living
Scientific evidence of the benefits of Yoga-based stress reduction
Design and marketing of classes, workshops, and courses
Adapting Yoga Nidra and other relaxation techniques
Leading group discussions for peer support
How to teach mental and emotional Yoga practices, including Raja and Karma Yoga, for everyday life through accessible language and practices
This training offers a foundation for all other specialized Yoga Therapy trainings (Cardiac, Cancer, PTSD, etc.), and it offers a useful skill base for many other adaptive Yoga applications.
Stress Management Teacher Training is held every other year at Satchidananda Ashram–Yogaville.
Training Information
Prerequisites
Certified Yoga teachers of all traditions who have a minimum of 6 months of teaching experience.
There are 5 hours of online reading and videos to view before the course begins. These are counted in your course hours and prepare you for the practical training. They add value to the course without increasing the number of days you spend in residence. They allow us to make your time in residence more interactive and practical.
Continuing Education Opportunities
Yoga Alliance (YA):  Approximately 90 contact hours
International Association of Yoga Therapists (IAYT): Approximately 90 contact hours
Healthcare and Related Disciplines: Although CMEs are not offered, a certificate documenting CE hours may be available for your discipline. Please contact CEU@iyta.org for details.
Testimonials
I have 7 different Yoga teaching certifications. IYI Stress Management Training is the backbone of everything I teach because it takes Yoga off the mat and into people's lives. I can give people a prescription to reduce the negative effects of stress. It's a wonderful road map to the refuge of a calm mind, and a relaxed, awakened body. I've also written a book called Yoga Inflight that is based on Stress Management TT. — M. Heron, New York

Integral Yoga Stress Management Teacher Training was one of the best programs I have ever attended. Everything was covered, from a deep understanding of stress and Yoga stress management to teaching many different groups of people. It included how to modify poses for people with special needs, how to structure classes, and how to effectively market your new found skills. I continue to use the written manual often. — D. Thompson, New York

I took Integral Yoga Stress Management Teacher Training in 2012. Since then, I have taught Stress Management in a Pharmaceutical Residency program, to staff of the Intensive Care Unit at a local Hospital, women's and men's maximum-security prisons, the South Carolina Department of Water Works, Michelin Tire Company, a large Belgian manufacturing company, and four law firms.  In many settings, I don't mention the word "Yoga.."  It's the essential Yoga teachings re-framed for a general audience. — Rikki Donahoe, Columbia, SC