Cultivating Trust: How Wild It Is to Let It Be
with Tara (Becky) Eschenroeder, E-RYT 500, RCYT, YACEP and Special Guest Brad Ellsworth of Druminyasa®
November 10 - 12, 2017
How much time do you spend moving towards where you want to be versus being content with where you are? Where can you create space in your life? What would that space allow you to let in? What do you cling to (mentally/physically)? How could letting go of this allow you to let yourself live more fully and deeply? As we navigate into the third and fourth chakras (power center and heart), we will incorporate the idea of cultivating trust and letting go (Ishvara Pranidhana).
This exploration includes:
Discussion, journaling, asana practice, and an in-depth look into the core of your being… working from the inside out
The philosophy behind Santosha, the second of the five Niyamas
The philosophy behind Manipura, the third of the five chakras; Anahata, the fourth of the five chakras; and Ishvarah Pranidhana, the fifth of the five Niyama
Yoga Nidra (progressive relaxation)
Visualization
Included in the weekend of self-exploration will be the beats and vibes of Druminyasa. You will feel the rhythms of the drums as you connect breath, heartbeat, mind, and body to a Vinyasa flow led by Becky (Tara) Eschenroeder to the beats of percussionist Brad Ellsworth, a Yoga practitioner and teacher and founder of Druminyasa.
Stripping away the distractions of everyday life, we will get back to basics, cultivating trust in the ever-present, universal truth that lies within.
Testimonials
Magical!  Words cannot express how much I loved this retreat. Becky did a phenomenal job providing us with a perfect balance of fun, freedom, connection, and spirituality. I left feeling happy, rested, rejuvenated, and in tune with myself. I highly recommend attending any retreat, workshop, private, that Becky Eschenroeder provides. She has positively impacted my life in indescribable ways. She has an incredible gift that I feel so blessed to be able to experience alongside her. — Julia, Retreat Participant

I didn't know what exactly to expect from this retreat – I was just looking forward to spending time learning from two of my favorite Yoga instructors! I arrived to the destination a little early and spent some time walking through the Ashram, and it was such an incredibly spiritual experience that I believe set the tone for the rest of the weekend for me. I was able to (almost) completely unplug from the outside world and technology and just enjoy the nature and community that surrounded me. I felt a little selfish soaking up so much joy and positive energy but like to believe that I brought all that positivity home to share with others. I definitely want to go back to Yogaville, whether on another retreat like this or by myself, and, eventually, I would love to get more involved in the mission of Integral Yoga. All around, an absolutely wonderful, memorable experience. — Rebekah, Retreat Participant

Having the live drumming accompany the practice helped me turn my focus inward to my own rhythm. And as I began to flow and breathe with that rhythm, the movements became more of a dance. I was lost in the beats in a way that made the dance more effortless. I was able to flow and dance freely, allowing me to truly focus on my intention and better serve my body, mind, and practice. — Katy

Rhythm was on beat with our breath, movement, and made you feel powerful and strong! It was also just a lot of fun. At one point, I just closed my eyes and moved and felt the drums and it was incredible! — Keala
Presenters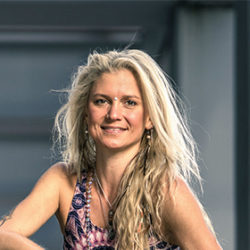 Tara (Becky) Eschenroeder, E-RYT 500, RCYT, YACEP
Tara (Becky) Eschenroeder is a certified coach and mentor, self-published author. and an accomplished yogini who was voted one of the top three Yoga instructors by Richmond Magazine in 2015. With some teachers, the lessons are planned, practiced, rehearsed, and perfected to a tee, but Tara Eschenroeder offers a different experience. Teaching was Tara's dharma long before she realized it. She grew up with a bow and arrow in her hands, learning to pull back with just enough aim and control to send her arrow into the abyss, knowing and trusting it would hit its intended mark. Likewise, she enters each…
Learn more about Tara (Becky) Eschenroeder, E-RYT 500, RCYT, YACEP