Everything Comes to You: Yoga of Prayer
with Bharata Wingham, E-RYT 200, CLYT
July 21 - 23, 2017
What you are seeking is seeking you:
Clarity of vision. Purity of feeling.
In this workshop, you are going to draw from several spiritual traditions including Yoga, and particularly from A Course in Miracles. Experience how everything comes to you with the Yoga of prayer and ground yourself in the expectation of infinite good and the power of Now.
When you stop chasing stuff in your life and instead turn your attention to your inner development, a change takes place where, in the words of Sri Swami Satchidananda, things start chasing you!
This weekend will focus on:
The power of feeling and acceptance in prayer
The "ego-nomic" system and its transformation
The three blockages to prayer and everything flowing to you
Laughter, gratitude, and forgiveness to open your flow: The use of laughter in prayer
The Law of Cause and Effect to empower you
The right use of will and prayer
The Law of Distraction and moving beyond it: Mind searching vs. mind wandering
The hidden side of karma and the Golden Rule
Five spiritual steps that you must learn and follow for effortless living
Orientation to realize one of the greatest of the ancient spiritual promises: effortless living, working, and playing
Instead of trying to get things from the world, you give first that others may give freely.
Just as the magnetic pole of the earth effortlessly draws the needle toward it, your gratitude draws you toward your continuing abundance.
Testimonial
A consummate professional knowing the information inside and out, Bharata created the perfect container for deep questions. His humor comes through and kept a nice balanced atmosphere throughout the weekend. — Past Participant
Teacher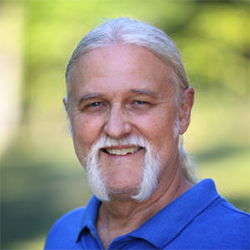 Bharata Wingham, E-RYT 200, CLYT
Bharata Wingham, is a long-time student of A Course in Miracles working with it daily since 1980. He is a Laughter Ambassador and has trained hundreds of Laughter Yoga Leaders and has led thousands of people through Laugha Yoga® sessions, a philosophy of Spontaneous Self Liberation. He was trained and certified by Dr. Madan Kataria, founder of the world-wide laughter clubs. For thirteen years he produced and hosted a television program, A Course in Miracles Study Group, which was distributed in the US and abroad. While conducting numerous programs, workshops he also authored the book, An Ancient New Idea: A…
Learn more about Bharata Wingham, E-RYT 200, CLYT