Yoga Therapy's Healing Lifestyle: Preventative Medicine of the Future
with Bob Butera, Ph.D., M.Div.
February 17 - 19, 2017
In the future, "medicine" might mean "holistic lifestyle."
Imagine how happy your doctor would be if:
You felt inspired by each facet of life

Stresses were seen as temporary events filled with valuable lessons

You saw relationships as times to experience love fully and to purify your ego

Sleep, diet, and exercise were also your medicine
The goal of this weekend is to offer tools to help you see each aspect of your daily life as an exercise in spiritual development.
Bob's training at The Yoga Institute of Mumbai, India (1989), his Ph.D. in Yoga Therapy (1997), and 30 years of practice has helped him translate the esoteric teachings of Yoga into easy-to-follow lifestyle principles. During this weekend we will discuss principles from The Yoga Sutras and Bhagavad Gita, as well as the koshas and chakra systems. During the Hatha Yoga sessions, the goal will be to help devise short home practice routines and to develop self-awareness towards how you perform asana, opening doorways for renewal.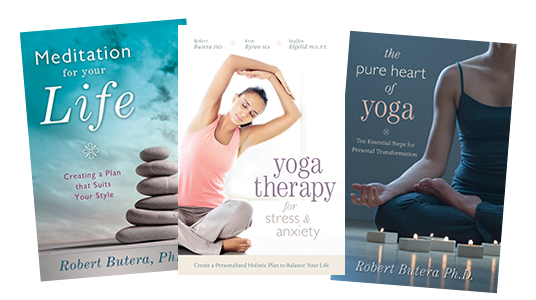 Testimonial
I loved your class. One of the students said they were so impressed to realize the director and owner of the YogaLife Institute was in our building. Your mentorship means a great deal to me.  I have learned and grown so much through my work at YogaLife Institute. I thoroughly enjoy how you can read a person so quickly!  You are always so direct and if someone is ready to hear it you are giving them such valuable information. It's fascinating to see if they are open to receiving it. I also appreciate the way you block others from giving advice to another student. I learn so much just watching you in a group. With gratitude. — Suzanne, Yoga Studio Owner