How to Be Happy
with Swami Gurucharanananda "Mataji"
January 19 - 21, 2024
"Before praying, believe, before speaking, listen, before spending, earn, before writing, think, before quitting, try, before dying, live — a sure way to happiness". – Mataji
Feeling happy at times may seem easy, but how do you cultivate more of it in your everyday life? Join senior sannyasi Swami Gurucharanananda, lovingly called "Mataji", on an exploration of discovering new and everyday ways to experience happiness.
In preparation for this retreat, Mataji invites all participants to experiment with a positive change you would like to make in your life. Throughout this retreat, you will discover how you can use faith and happiness to create lasting and positive transformation.
Learn the secrets of happiness, including spontaneous generosity, selflessness, recognizing the divinity in all, and more. Join us for an enlightening weekend to play with different actions and reactions to life as it unfolds before us.
Workshop Schedule:
Friday Evening — 8 pm–9 pm: Opening Your Heart to Happines
Saturday Morning — 10 am–11:30 am: Happiness "Is"
Saturday Afternoon — 2 pm–3:30 pm: Love What You Do
Sunday Morning — 10–11:30 am: Deepening Your Faith: Experience Your Mind In God, Hands in Service, Heart in Love and Just Be Happy
What to Expect
Integral Yoga promotes an easeful body, a peaceful mind, and a useful life. Developed by Sri Swami Satchidananda, the path of Integral Yoga uses every aspect of life as a stepping stone to one's supreme goal—lasting happiness and inner peace. The practices of Integral Yoga, including pranayama (yogic breathing), meditation, and Hatha Yoga, will help you to realize the peace which is your own true nature.
Sadhana (practice) refers to any spiritual exercise that is aimed at progressing the aspirant toward the ultimate expression of their life. When done intentionally, everything can be sadhana—the way you think, move, eat, and interact with others.
Since 1970, Integral Yoga Retreats have provided the sanctuary and solace everyone needs from time to time. Surrounded by a serene woodland landscape, Satchidananda Ashram–Yogaville serves as an ideal environment for rest and relaxation while teachers offer experiential classes in Yoga philosophy, meditation, breathing techniques, Yoga postures, and deep relaxation.
Support
During the retreat, you will have the opportunity to seek support and clarification from senior Integral Yoga instructors.
Private mentoring is also available.
All Are Welcome
These retreats are open to everyone, from beginners to advanced Yoga retreatants. Those who are new to meditation or Yoga practices will receive full instruction, while those with experience will have the opportunity to deepen their practice.
Testimonials:
Being with Mataji is an experience of love. Her spoken words are filled with astounding knowledge and understanding. Mataji communicates directly to your heart. If your heart is not open at the beginning of each session it will be open by the end—every time! — Michael Selzer DDS

My overall experience was JOYFUL!! It was truly such a gift I chose to give myself to be in the presence of Mataji, listen to her beautiful words of wisdom, watch her smile, speak from her heart and share her love, light, blessings, peace, and contentment with all that were blessed to view her teachings. I will always cherish watching her sing and chant as she smiles with such love and devotion. She is truly such a gift and inspiration to all. Thank you, Beloved Mataji. — Shankari
Presenter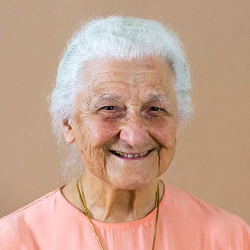 Swami Gurucharanananda "Mataji"
Swami Gurucharanananda, lovingly called Mataji, is a senior sannyasi (monk) and disciple of Gurudev, Sri Swami Satchidanandaji Maharaj. She lives at Yogaville and serves on the Sannyas Board. Mataji is a guided meditation leader and Hatha Yoga teacher, an inspiring speaker, Integral Yoga® mentor, and private retreat guide. She loves to offer pujas (worship service), read Sri Gurudev's teachings at lunch, and play the violin as a wake-up call in the dorms! In 2014 she was awarded the Swami Satchidananda Lifetime Service Award. Mataji always has a loving, joy-filled smile ready for you!
Learn more about Swami Gurucharanananda "Mataji"