Krishna Das Saturday Concert
with Krishna Das
May 25, 2024
Join Grammy-nominated and world-renowned musician Krishna Das for a night of transcendental kirtan with the Yogaville community. Krishna Das is a down-to-earth yogi as well as a beloved figure in the world of spirituality and music. All are welcome to join in on this celebration of community and connection.
Enjoy sacred devotional chants while exploring the transformative power of mantra and kirtan (chanting names of the divine). This evening experience is designed to make chanting mantras simple and accessible to all, facilitating a deep connection with oneself and igniting the fire of Bhakti (devotional worship) within your heart.
Krishna Das will host this Saturday Satsang Concert as part of a three-day Bhakti Yoga retreat. Experience a full weekend of bhakti bliss by joining the Yoga of Devotion with Krishna Das retreat. May 24-27th, at Yogaville.
Testimonials
KD is the perfect combination of compassion, insight, humor and truth-telling. — Lalita Lynn Taylor

KD is a master at sharing big things in a simple way and being kind and patient with all our questions. Of course, the chanting was beautiful, sacred, and so healing, especially right now. — Elizabeth Wasserman

My heart is overflowing with love. My deepest gratitude. — Katherine Kasey Conklin

The whole weekend — the talks, the sessions with KD, the life yoga practices, all of it got me back in touch with my practice that had fallen away with the closing of my yoga studio. KD knows what he is talking about! It was my first experience with him (outside of recorded music) and it was neat to just hang out with him and listen to his stories and explanations. This online retreat helped me reconnect with my personal practice and expand it at home. — Melissa Amory

KD is a master storyteller. He is authentic and speaks from his heart and tells it like it is. He is transmitting the teachings of the ancient masters in a simple, easy to understand way. — Kate Doran

KD is my favorite. His kirtans are fresh and contemporary, but they still have a traditional flavor. It makes me happy to listen to him, and to sing along. Krishna Das has a fresh, contemporary take on Kirtan that retains a warm, traditional flavor. He is also a down to earth and accessible teacher. It was a treat to get to ask him questions, and to listen to his answers to other people's questions. It is always a treat to hear him play and sing. — Maria Puente-Duany
Presenter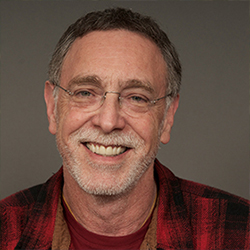 Krishna Das
Krishna Das has been called Yoga's "rock star," layering traditional kirtan with instantly accessible melodies and modern instrumentation. With a remarkably soulful voice that touches the deepest chord in even the most casual listener, Krishna Das—known to friends, family, and fans simply as KD—has taken the call-and-response chanting out of Yoga centers and into concert halls, becoming a worldwide icon and the best-selling Western chant artist of all time. His album, Live Ananda, (released January 2012) was nominated for a Grammy in the Best New Age album category. KD spent the late 60's traveling across the country as a student of…
Learn more about Krishna Das