Integral Yoga and Mental Health – Online
with Louis Mahadev Carlino, E-RYT 500, M.A., LPC
May 27, 2023
CE Online Workshop
Advancing in Hatha Yoga has a lot less to do with the shapes that you can get your body into, and more to do with the depth and quality of inner experience. This workshop will begin with an introductory discussion about the difference between an authentic, felt sense of self versus a mentally constructed one. We will then practice an hour of Hatha Yoga together focused on feeling the body (and self) from within. We will close the workshop by sharing our experiences, and learning from each other's descriptions and insights.
A mind in balance with the body is an essential characteristic of mental health. A preoccupation with thinking is a common feather of all manner of mental disturbances including full blown psychiatric disorders. We live in an age where we are bombarded by information, data, and mental processing. Hatha Yoga is as popular as it is today because it runs counter to this cultural tendency. Please join us in an experiential adventure as we learn to appreciate the amazing potency of Hatha Yoga to bring us back into our bodies, and back to a full embodied sense of self.
Live session on Saturday from 3–4:30 pm ET.
Recommended Reading
To prepare for the workshop, please read the blog Integral Yoga Hatha and Mental Health by Louis Mahadev Carlino.
Continuing Education (CE) Opportunities
Yoga Alliance (YA): Approximately 1.5 contact hours.
You can input your contact hours using your YA login information.
*** This is an online event and is free for IYTA Members. Please email membership@iyta.org or go to your membership dashboard on iyta.org for your discount code ***
Presenter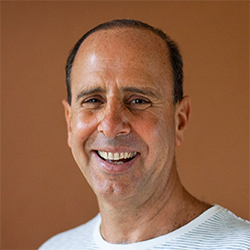 Louis Mahadev Carlino, E-RYT 500, M.A., LPC
Louis Mahadev Carlino, E-RYT 500, M.A., LPC, is a certified Integral Yoga® teacher with over 1000 hours of training. From 2001 through 2006, Mahadev lived at Satchidananda Ashram–Yogaville, where he led teacher trainings at all levels. In 2009, he earned a Masters' Degree in Somatic Counseling Psychotherapy from Naropa University in Boulder, CO. He has developed a style of psychotherapy informed by the teachings of Integral Yoga. Mahadev leads workshops on the healing power of Hatha Yoga and, in addition to practicing as a psychotherapist, teaches several Integral Yoga Hatha classes in Boulder. Mahadev is passionate about sharing Hatha Yoga…
Learn more about Louis Mahadev Carlino, E-RYT 500, M.A., LPC