The Intersection of Neuroscience, Psychology, and Yoga with Mala Cunningham – Online
with M. Mala Cunningham, Ph.D., C-IAYT
September 23, 2022
The Intersection of Neuroscience, Psychology, and Yoga:
Looking at Yoga practices through the lens of neuroscience and psychology brings to the table a deeper understanding of how and why Yoga works as well as how Yoga impacts our neurobiology and healing.
In this presentation Dr. Mala will discuss the intersection of these three disciplines and will cover:
How the vagus nerve and polyvagal theory intersect with the Yoga Guna and Kosha theory
How the intersection of psychology, Yoga, and neuroscience provides a more in-depth avenue for healing
How the Yoga practices impact our neurobiology
Live Session with Dr. M. Mala Cunningham on Friday, Sep. 23 from 11 am–12 pm ET.
Continuing Education
Yoga Alliance (YA): 1 contact hour. You can input your contact hours using your YA login information.
Testimonials
Dr. Cunningham is an extremely knowledgeable, patient and compassionate teacher. She was able to take a challenging subject and make it accessible to everyone. — Nancy Indrani Grossman

Mala is a caring and highly knowledgeable teacher. She does not just lecture; she wants you to understand. I highly recommend taking her class, you will not be disappointed. — Program Participant

The program was life-changing, informative, inclusive, and stimulating. I felt a true connection with dedicated participants and learned the subtleties that are occurring in the brain and being. — Program Participant
Presenter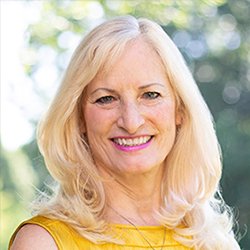 M. Mala Cunningham, Ph.D., C-IAYT
Mala Cunningham is a counseling psychologist and certified Yoga therapist in Charlottesville, VA. She is an assistant professor at the University of Virginia (UVA) School of Nursing where she teaches courses in Foundations of Medical Yoga for Health Professionals. Dr. Cunningham is also the co-director of Medical Yoga at UVA where she has developed and teaches continuing education courses in Medical Yoga for physicians and healthcare workers offered through the UVA Professional Development office. She is also the president of Positive Health Solutions and is the founder and director of Hospital Bed Yoga and the Cardiac Medical Yoga Teacher Training Program.…
Learn more about M. Mala Cunningham, Ph.D., C-IAYT