Yoga for Your Mood: Practices to Shift Depression and Anxiety – Online
with Amy Weintraub, E-RYT 500, C-IAYT, MFA, YACEP
October 1 - 2, 2022
Don't stay stuck in a bad mood or thinking that limits you. Not only will these practices shift your mood, but they may change your life as they did for Amy and the thousands of students she has trained. Learn accessible Yoga practices that support you and those you serve to achieve and sustain emotional wellbeing.
Amy experienced firsthand the relief that Yoga can provide and has spent her career helping others who suffer from mood disorders like depression and anxiety. Now, she offers accessible practices to everyone, no Yoga experience required.
You'll practice:
Pranayama and kriya (breathing techniques) that regulate the emotions
Meditations that lift the mood
Sankalpa (affirmations)
Bhavana (guided visualizations)
Mantras (tones) that manage the emotions
Mudras (hand gestures) that affect different areas of the chakra system and the body
Yoga asanas suitable for all levels
This program is accessible for all levels, including beginners. Health professionals and Yoga teachers will learn techniques not regularly taught in Yoga classes to help their clients focus, relax, and have greater access to their feelings.
Fulfills the prerequisite for the LifeForce Yoga Practitioner Training.
Live sessions with Amy on Saturday at 10:30 am–12:30 pm and 2–4 pm, and Sunday at 10:30 am–12:30 pm ET.
In addition, you will have access to two 1.5-hour recorded Yoga classes with Amy—one for depressed mood and one for anxious mood—as well as the Ashram's Live Hatha Yoga classes at 5 pm ET, recorded Ashram meditations, and inspiring talks with Sri Swami Satchidananda. You will also have access to an online social community to connect and communicate with other participants about this course.
You will have access to the video recordings for 8 weeks after the program ends, until November 27.
Continuing Education (CE) Opportunities
Fulfills the prerequisite for the LifeForce Yoga Practitioner Training.
Amy Weintraub's Recommended Media
To learn more about Amy, please visit amyweintraub.com.
Testimonials
Amy Weintraub is a leading teacher in the field of Yoga for depression, anxiety and related issues and I was happy to finally be able to take a workshop with her. Her knowledge and kindness emoted through the whole weekend. I am grateful to have gained more wisdom and being able to apply the techniques for my students and clients. — P. Jones

Whether you are a Yoga teacher, therapist, practitioner or someone who is seeking direction—there is something for you in Amy Weintraub's Lifeforce Yoga to Manage Your Mood course. Amy's empathy, understanding and training are one of a kind and so welcome to guide us through the shape of time we are experiencing now. — Susan Proper

Amy Weintraub is an inspiration and a spiritual asset to the yoga community! Anyone who takes her workshop will not regret taking it. It was professionally done and I gained tons of knowledge! — Bonnie Siegel
Presenter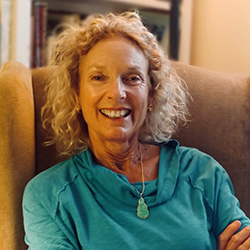 Amy Weintraub, E-RYT 500, C-IAYT, MFA, YACEP
Amy is the founder of the LifeForce Yoga Healing Institute and has been a pioneer in the field of Yoga and mental health for over twenty-five years. She is the author of Yoga for Depression, Yoga Skills for Therapists: Effective Practices for Mood Management, the award-winning novel Temple Dancer, the new card deck Yoga for Your Mood: 52 Ways to Shift Depression and Anxiety, and numerous articles and book chapters.  She offers professional trainings and workshops for mental health and Yoga professionals and speaks at international Yoga and psychology conferences. Amy's evidence based LifeForce Yoga protocol is in use in…
Learn more about Amy Weintraub, E-RYT 500, C-IAYT, MFA, YACEP