Gentle Somatic Yoga® Level 1 Training
with James Knight, E-RYT 200, CHSE
May 20 - 25, 2022
Dive deeply into Gentle Somatic Yoga® (GSY), a method of movement re-education that strengthens the brain-to-muscle neural pathways. In this 6-day Level 1 course, you will learn practical and easy to implement skills that will address the root cause of most chronic muscular pain and reverse persistent stress holding patterns in the body. Experience more than 25 Somatic Movement Flows® that can be incorporated into therapeutic modalities such as Hatha Yoga, Yoga therapy, physical therapy, massage therapy, and dance.
Begin your journey with us to:
Relieve or dissolve persistent pain conditions
Significantly improve flexibility and posture
Reduce or eliminate muscle stiffness and cramping
Boost health, vitality, and wellbeing
Develop a loving, compassionate and trusting relationship with your body
Learn Somatic Movements that are science and heart-based. This is a whole-body approach for self-healing and most people experience immediate and long-lasting results. Enjoy your body and feel good now.
The science behind this method comes from Hanna Somatic Education. Learn about the green light, red light, and trauma reflex; sensory-motor amnesia, the stretch reflex; and the important technique of pandiculation. In Gentle Somatic Yoga, we do not focus on stretching muscles. Instead, we reprogram muscles to their most optimal length in a resting position.
Learn how to modify the Gentle Somatic Yoga practice to meet the needs of special populations including seniors, beginner Yoga students, athletes, and individuals with special conditions such as rehabilitation from injuries, desk workers, and pregnancy.
Integrate GSY into immediate application in your everyday life. Enjoy the benefits for yourself and share this knowledge with people that you care about that are living with physical discomfort. If you are an experienced Yoga teacher, therapist, bodyworker, or movement educator, you will be able to develop one-on-one sessions, and classes that address common conditions such as neck and shoulder tension, chronic back pain, tight hips, and/or hamstrings. If you are already working with special populations, then Gentle Somatic Yoga can augment your practice and continue to distinguish yourself as an expert in the field. This new skill set can dramatically accelerate all therapeutic and healing processes.
If you are unable to stay for the full 6-day program, consider signing up for the Gentle Somatic Yoga Weekend: Find Your Inner Yes, May 20–22, 2022, to experience a weekend of complete restoration and a natural state of peace and well-being. The weekend workshop is included with the 6-day Level 1 Training.
This intensive is designed for anyone wanting to learn a home practice for easy and reliable self-care and healing. This program is also designed for Yoga teachers, Yoga Therapists, health care professionals that want to learn new skills to teach group classes and/or individualized sessions.
Continuing Education (CE) Opportunities
At the completion of this 6-day program, you qualify to become a GSY Practitioner Level 1 with a Certification add-on option.
Testimonials
This was an outstanding intro course to Somatic Yoga led by a very experienced and talented person, James Knight. I am inspired to continue with this yoga practice. — Lee Helfrich 

James provided a wonderful space to explore personal movement, to expand understanding of one's capacity and potential, and to be gentle, questioning, and open with oneself. Taking time and space to be with oneself and one's own process is a gift, and he helped facilitate that. — Roberta R.

James Knight is a fantastic teacher and did a great job introducing the principles and theory behind Gentle Somatic Yoga, as well as leading us through several practices. I highly recommend his class. — Jerome Levadoux

It was an awesome and needed experience to be a part of the "Gentle Somatic Yoga® Weekend: Awaken from Within!" James Knight is a fabulous teacher—he has full knowledge of the human body and Yoga; he gave easy-to-follow instructions; he is humble and professional. I felt safe and taken care of during the time of the classes. My mind, body, and heart feel much lighter, balanced, and content. I am planning to take more classes with James and at Yogaville. Thank you. — Malgorzata "Gosia" Allison-Kosior
Please Note: James Knight has every intent to come to Yogaville and share the Gentle Somatic Yoga® practice in person. Since COVID restrictions are still a concern, should traveling or large group gatherings be restricted, we wouldn't cancel this event fully. It might become a hybrid of virtual and in-person, or fully virtual.
Presenter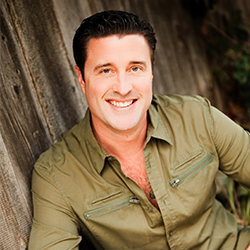 James Knight, E-RYT 200, CHSE
James has been an Integrative Therapist for over 25 years. He is a Yoga teacher (E-RYT 200) and Certified Hanna Somatic Educator (CHSE). From his combined experience as a lifelong yogi, intuitive bodyworker, psychotherapist, and movement educator, James created a method of Yoga that integrates what he discovered to be the most progressive, life-enhancing techniques into an embodied movement practice. Gentle Somatic Yoga was born out of years of exploring means of connecting and integrating the deeper aspects of the whole Self (Soma). James' passion is to awaken the possible for people living with challenges related to physical limitations. He…
Learn more about James Knight, E-RYT 200, CHSE