The Power of Thought – Self-Paced
with Swami Gurucharanananda "Mataji"
Open Dates
In this previously recorded self-paced workshop, discover the power of thought with Swami Gurucharanananda, lovingly called "Mataji". Thoughts are alive! The speed and power of thoughts are unimaginable. Learn how a desire stimulates a thought, a thought embodies itself as an action, and actions constitute the web of our destiny.
We are playing with many kinds of thoughts these days, so let's try to let our thoughts create the best possible future for everything in our lives.
Thoughts make a person, people make a civilization! There is a powerful "thought force" behind every event in life. A new age is awakening, now. How can we contribute positively to that future? Your thoughts are expressed in words and acted out in deeds. Actions change results from 'right-thinking". Can I have a powerful, good thought for the world?
Clear, strong thoughts make clear, helpful actions happen. Thought power is behind all the events and growth in history. What are some ideal thoughts, that acted upon with sincere leadership and conviction, will bring light and vision to the world?
Mataji is a senior sannyasi (monk) and disciple of Swami Satchidananda. She is a guided meditation leader, Hatha Yoga teacher, inspiring speaker, Integral Yoga mentor, and private retreat guide.
This workshop includes access to:
Three inspiring and uplifting recorded talks by Mataji
One guided meditation video by Mataji and one Integral Yoga Meditation by Narada Williams
Yoga Nidra and two inspiring talks by Sri Swami Satchidananda
Two Integral Yoga Hatha videos
Live 5 pm ET Integral Yoga Hatha class every day
Live Q&A with an Integral Yoga senior teacher every Sunday on a different topic
Testimonials
Mataji answers unasked questions. She speaks from her heart and straight into yours and often it is just what you were wondering about. Her guidance is gentle, kind, and humorous. However, firm strong guidance is also part of her teaching. Just what's needed! — Lolly Bower

Mataji is full of wonderful stories with deep meanings and good advice for life and relationships. — Steve Hulburt

Mataji is incredibly knowledgeable on spiritual matters and she makes the knowledge accessible. Her stories make every aspect and concept relatable. I had very high expectations based on previous meditations with Mataji. These expectations were exceeded. Mataji makes even abstract concepts accessible. — Allen Reed

This was what I needed when I needed it- and now begins my journey. Mataji is truly an old soul, connected to things far above. The lessons were given with great love. The presence of someone as wise and compassionate as Mataji absolutely made my experience resonate. — Past Participant
Presenter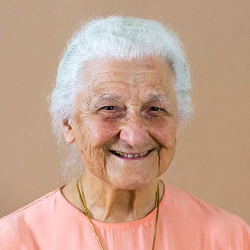 Swami Gurucharanananda "Mataji"
Swami Gurucharanananda, lovingly called Mataji, is a senior sannyasi (monk) and disciple of Gurudev, Sri Swami Satchidanandaji Maharaj. She lives at Yogaville and serves on the Sannyas Board. Mataji is a guided meditation leader and Hatha Yoga teacher, an inspiring speaker, Integral Yoga® mentor, and private retreat guide. She loves to offer pujas (worship service), read Sri Gurudev's teachings at lunch, and play the violin as a wake-up call in the dorms! In 2014 she was awarded the Swami Satchidananda Lifetime Service Award. Mataji always has a loving, joy-filled smile ready for you!
Learn more about Swami Gurucharanananda "Mataji"