Integral Yoga Sadhana Weekend
with Ashram Staff and Presenters
Join us for the reopening of Satchidananda Ashram–Yogaville to experience a sadhana intensive under the guidance of skilled Integral Yoga practitioners. Whether you are seeking relaxation, instruction in Yoga practices, or support in your personal practice, the Integral Yoga Sadhana weekend will provide the perfect foundation for your spiritual retreat.
Integral Yoga promotes an easeful body, a peaceful mind, and a useful life. Taught by Sri Swami Satchidananda, the path of Integral Yoga uses every aspect of life as a stepping stone to one's supreme goal—lasting happiness and inner peace. The practices of Integral Yoga, including meditation, and Hatha Yoga, will help you to realize the peace which is your own true nature.
Sadhana (practice) refers to any spiritual exercise that is aimed at progressing the aspirant toward the ultimate expression of their life. When done intentionally, everything can be sadhana—the way you think, move, eat, and interact with others.
This program offers:
Workshops on yogic lifestyle and philosophy led by senior Integral Yoga practitioners
Meditation for connecting with one's inner peace
Hatha Yoga practices for cleansing and rejuvenation
Delicious, vegetarian meals for a enhanced immune system
Opportunities to practice Karma Yoga (selfless service) in various service areas, including the Yogaville Kitchen, Farm, and grounds (For Farm or Ground Karma Yoga Service, please bring sturdy shoes and water bottles)
What to Expect
Since 1970, Integral Yoga Retreats have provided the sanctuary and solace everyone needs from time to time. Surrounded by a serene woodland landscape, Satchidananda Ashram–Yogaville serves as an ideal environment for rest and relaxation while teachers offer experiential classes in Yoga philosophy, meditation, Yoga postures, and deep relaxation.
Support
During the retreat, you will have the opportunity to seek support and clarification from senior Integral Yoga instructors.
Private mentoring is also available.
All Are Welcome
These retreats are open to everyone, from beginners to advanced Yoga retreatants. Those who are new to meditation or Yoga practices will receive full instruction, while those with experience will have the opportunity to deepen their practice.
Testimonials
Yogaville is a safe haven for my soul. Having this rare and beautiful space to rest, to learn and to connect and to grow is a true gift and I am truly grateful. A true escape from my hectic city life. I finally feel like I can breathe. All parts of me feel alive again. — Elissa Gross

Disconnect from the everyday life stuff and experience yourself over and over. A beautiful, peaceful, and simple place to call home for a couple of days. — Yvonne Kelly

Beautiful and restorative experience. I was able to reset, rest, and access an important part of myself. I feel deeply nourished and ready to reintegrate back into my homelife. — Claire Pallandre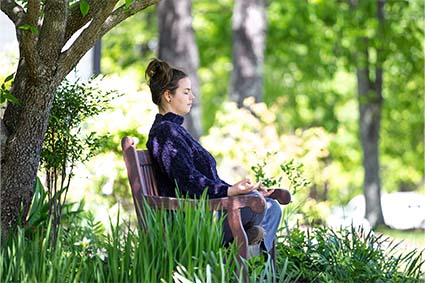 COVID Policies:
At this time the Ashram is only welcoming participants and guests that are fully vaccinated and able to provide proof of their Vaccination at least 72-hours before their arrival. Thank you in advance for your understanding. If you have any questions please contact [email protected]
All participants will be required to provide proof of a negative PCR or antigen COVID-19 test taken within 3 days of arrival. You will be asked to submit a copy or photo of your test results through a form provided prior to arrival and/or bring the results with you. Yogaville will provide an antigen test upon arrival as part of the registration process, if the test is positive you will be asked to leave.
Tuition:
$270.00 – Sadhana Weekend
$295.00 – Silent Retreat
Enjoy 20% off the Sadhana Weekend price with our Spring Special.

Accommodations:
Tent-site – $190.00
LOTUS Guest House – $505.00
Prices shown are for 1 person for all 3 nights
LGH or LOTUS Guest House is a Private Room and Bath.
Dormitories (Shared or Private) are not available at this time.
View accommodation rates and descriptions here: Accommodations
Date and Time Details:
Thursday–Sunday
Restarting March 10, 2022
Check-in*: Thursdays, 3–6 pm ET
Check-out: Sundays, 2 pm ET
*Photo ID (Drivers License or Passport) is required at Check-in for all Guests
Registration:
Please register at least 48-hours before Arrival.
Schedule:
Integral Yoga Sadhana Weekend Schedule (Thursday–Sunday)
Transportation:
At this time the Ashram is unable to provide transportation service to/from the Charlottesville Airport/Train/Bus stations.
Children:
At this time the Ashram is only able to accommodate children 15+ that are fully vaccinated and accompanied by their legal guardian.
Children 15+ are full price.
Financial Aid:
Financial Aid is available.
Fill out and return the form below
Finanical Aid
---
Register for your weekend(s) below:
There is a cap of 25 participants per weekend.
No Available Integral Yoga Sadhana Weekends
Integral Yoga

Silent Retreats