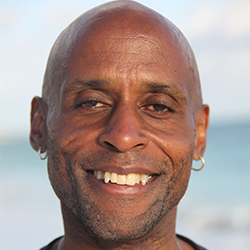 Manu Dawson, CYT, is a Certified Yoga Nutrition Therapist (CYNTh), and a prominent figure in the natural foods and Yoga sectors for over two decades. He offers lectures nationally on alternative nutrition, herbology, homeopathy, and advanced Yoga, incorporating Integral Yoga, Iyengar, Astanga Yoga, and pranayama (breathing practices). His seminars combine Hatha Yoga with nutrition, incorporating both Western and Eastern perspectives.
Trained and certified in advanced Yoga, meditation and pranayama in the Integral Yoga system of Sri Swami Satchidananda, Manu has been both a student and teacher of Yoga for over twenty years. He has also studied nutrition and herbology for more than 25 years and has worked in the natural foods industry for as long. He studied clinical nutrition and herbology in Gary Null's nutrition program at The Atlantic Academy and has co-hosted alternative nutrition programs on WEVD Radio in New York with Ayurvedic physician, Dr. Scott Gerson, and chiropractor, Dr. Howard Benedikt.
In 2003, Manu Dawson received certification by Dr. Sandra Amrita McClanahan, MD, director of Integral Yoga Health Services, as a Certified Yoga Nutrition Therapist (CYNTh).
Manu has been quoted on a regular basis by The New York Times and numerous other major national publications on health, nutrition, and Yoga. He has been interviewed on NBC and WCBS TV News and appeared on Court TV, numerous cable TV holistic health shows and on Gary Null's TV and radio programs.
His impressive and varied lecture and teaching credits include; Beth Israel's Physical Therapy staff – 1996; Elizabeth Seton Childbearing Center on Nutrition and Pregnancy and Menopausal Nutrition – 1999; United Nations Women's Guild – 1994; College of New Rochelle – 1944; New Age Health Spa – 1995-1998; Boricaa College – 1999, and a wide range of drug rehab centers throughout the Great New York and Metropolitan region. Manu also lectures on a regular basis at OM Yoga, Patanjali Yoga Shala, Gulliver's Institute of Nutrition, New York Yoga Teachers Association (which he also writes articles for and is a past board member of) and at Integral Yoga Institute of New York, on such topics as diet nutrition, immune system strength, fasting, natural hormone replacement therapy, Yoga and male sexuality, herbs, and stopping smoking. He has also conducted an extensive series of lectures addressing such timely and necessary subjects as anthrax and how to boost the immune system, nutritional needs of African Americans and allergies, asthma & the immune system at The Open Center and in workshops at The Yoga Zone.
Manu is also on the teaching faculties of OM Yoga and Integral Yoga Institute of New York, teaching nutrition to OM Yoga's teacher trainees and their prenatal Yoga teacher trainees as well as Integral Yoga Institute's teacher trainees. His exclusive teaching approach, which is totally unique, combines his background as a certified Hatha Yoga and meditation specialist and his years of lecturing in nutrition.
Manu is presently on the staff of Well Balanced Chiropractic in NYC as their Clinical Nutritionist.
Manu Dawson has directed detoxification/ fasting retreats for the Sivananda Yoga Organization and the Integral Yoga organization both in the states and abroad since 2003 successfully supervising the detoxification of hundreds of participants.