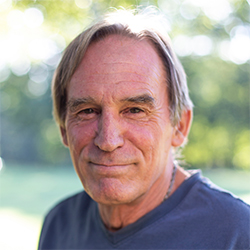 Ramakrishna began studying Yoga and Eastern religions in 1967. In 1970, he joined the Integral Yoga® Institute (IYI) of San Francisco as a founding member. As an Integral Yoga (IY) teacher and community service director of the IYI, he taught the community in high schools, colleges, half-way houses, detention centers, on wilderness outings, and on a television program.
In 1972, he became a founding member of Yogaville West in northern California. He served as head of maintenance until 1975 when he moved with his wife Radha to Yogaville East in Connecticut. A carpenter by trade, Ramakrishna was a key member of the maintenance and construction staff at the Ashram. When the property in Virginia was bought in 1979, he and his young family moved again to help build Satchidananda Ashram–Yogaville (SAYVA) in rural Buckingham.
After moving to Virginia, he served on the Volunteer Fire Department as an EMT with the Buckingham Rescue Squad and was a leader in founding the Volunteer Fire Department of Yogaville.
Ramakrishna has had a role in constructing most of the major buildings at Yogaville including Ananda Kutir, Sivananda Hall, LOTUS, Chidambaram, Vivekananda Vihar, Guru Bhavan and the Monastery, several private residences in the area, and numerous projects in Charlottesville, VA.
His four children were born and raised in Yogaville with his daughter Jyoti being the first child born at SAYVA.
With his late wife, Reverend Vidya Vonne, he shared a deep love of the IY path and the Yogaville community, showing how spirituality and Yoga enter all aspects of life. He continues in that spirit teaching, building, dancing, writing poetry, climbing mountains, inventing new things, sharing the wisdom teachings of Swami Satchidananda and Master Sivananda, and being grateful every day.