Janaka Avallone, RYT 500, B.S.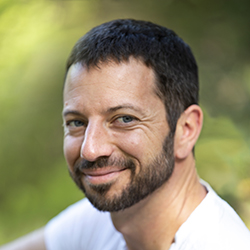 Janaka has clear memories of his own first steps onto the path of meditation and Yoga 13 years ago. He was 25 and had just suffered a painful breakup that motivated him to begin his own quest for inner joy and peace. That quest took him around the world to respected centers of meditation including Yogaville, Kripalu, and the Byron Bay Yoga Center in Australia where he earned a 500-hour Yoga teacher certificate. Janaka was drawn to dive deeply into meditation, which he says, "Gave me access to a sense of peace and gratitude regardless of life's ever-changing circumstances." As a result of his meditation practice, Janaka's presence is palpably peaceful and kind. In his business life, Janaka applies his meditation-powered focus to his work as a life coach. He has clients around the globe.
Janaka graduated from the University of New Hampshire with a B.S. in 2005. He participated in Satchidananda Ashram's Living Yoga Training for three months in 2012. For the last two years, he has studied with a spiritual mentor, Reverend Sumati Steinberg of Yogaville. He moved from Boulder, CO to become a full-time member of the Satchidananda Ashram–Yogaville sangha in 2017. Janaka currently serves in the Transportation Department and as lead instructor of Satchidananda Jnana Sangha.