Shankari Goldstein, RYT 500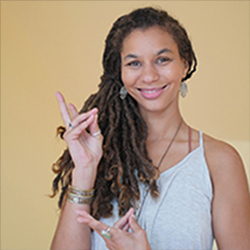 Shankari has been on a journey of self discovery and universal connection since 2009. Trained in the lineage of Integral Yoga, she understands the need to invoke the six paths of Yoga, not only for herself, but also for her students. She is also certified in Adaptive Yoga and Yoga of Recovery. She has served for the last four years as director of Group Visitor Services at Satchidananda Ashram–Yogaville, and spent three years serving on the Yogaville Leadership Team.
Shankari has spent years connecting to breath, body, strength, movement, and energy to create her own style of Hatha Yoga and Vinyasa flow, which she calls Soul Flow. This style of Yoga draws in elements of her time training with Faith Hunter and Toni Bergins, as well as her primary training at Satchidananda Ashram–Yogaville.
She is the founder of Shakti Tribe, a group that is based on the principles of empowering women in sacred space through Yoga, self care, motivational insight and inspiration. She is also the creative director and partner of the Shensara Yoga Festival, an annual four-day Yoga and Music Festival held in Luray, VA, and is half of the magical kirtan and world music duo, The Ascendants. She also leads her own Soul Kirtan events. She encourages everyone to tap into their unlimited potential and spirit!
You can join her for weekly classes at The Yellow Door Yoga studio in Charlottesville, VA.
See more with at shankarinow.com and theascendantsmusic.com