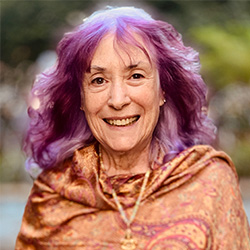 Nischala is a masterful teacher and healer, recognized for her innovative way of expressing Yoga and its subtle uses for spiritual growth and complete healing. Her dynamic delivery and deep inner conviction empower each individual, allowing the teachings to expand beyond boundaries and limitations of any one tradition enabling her to touch people's hearts.
Originally trained in Western medicine, she began to blend her practice with Yoga. She offered her expertise in developing the Yoga portion of The Dean Ornish Program for Reversing Heart Disease and co-founded the award-winning Commonweal Cancer Help Program. Her book, The Healing Path of Yoga, and her Abundant WellBeing audio series expresses these teachings.
She was graced to spend over twenty-five years as a monastic disciple with the world-renowned Swami Satchidananda, receiving his direct guidance and teachings. She has been blessed with teachings from great Yoga masters in the US, India, and worldwide.
She is now dedicated to bringing the feminine back into spirituality and the scriptures. Her book, The Secret Power of Yoga, is a woman's guide to the heart and spirit of the Yoga Sutras. Understanding the need for more love and compassion in today's world, The Namaste Effect, explores a heart-centered way of living through the mystical chakras.  Meditation in the Yoga Tradtion, her latest book, encourages a deep meditation practice culminating in experiencing the light within.
Events with Nischala Joy Devi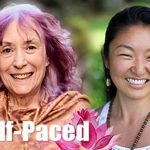 Experience the Fullness of Your Feminine Nature
Open Dates
In this prerecorded workshop, experience the fullness of your feminine nature by diving into the depth of intuition and joyous self-expression. Invoke the presence of the heart in daily rituals, scripture study, and the physical practices of Yoga. Explore how we, as women, have the power to use each moment of our daily lives to reflect our authentic self. During this program we will explore: Meditations to touch and expand the heart Expressive movements designed to bring forth the Goddess within Sutras for women, from a woman's perspective The art of spiritualizing each action in our lives Discovering and moving…