Gentle Somatic Yoga Weekend: Awaken from Within – Online
with James Knight, E-RYT 200, CHSE
January 15 - 16, 2022
In this online workshop, discover why Gentle Somatic Yoga (GSY) has gained worldwide recognition as a method for immediate and lasting solutions to chronic pain, stiffness, and other tension-based patterns in the body. Experience a weekend of complete restoration and inspiration for renewed lifestyle choices. You will be guided through therapeutic corrective movement sequences called Somatic Movement Flows®. Instead of traditional stretching, these mindful sequences reprogram muscles to dissolve chronic pain, dramatically improve flexibility, and re-establish good posture. The results return us to our natural state, which is peace and well-being.
You will be invited to embody progressive and innovative techniques that combine Hatha Yoga, Hanna Somatic Education, Core Energetics, pranayama (breathing practices), and healing visualizations inspired by quantum physics. As the practice of Yoga continues to become mainstream, people are searching for more gentle, kind, and nourishing ways to move.
This is a great introductory course for Yoga teachers, Yoga therapists, bodyworkers, active seniors, beginning Yoga students, and anyone interested in expanding their skill set for self-care or self-healing. Regardless of age or ability, you will learn practical and effective skills that you can immediately incorporate into your private sessions, classes, and home practice.
Live sessions with James on Saturday at 12–1:30 pm and 2:30–4 pm and Sunday at 12–1:30 pm ET.
You will have access to the video recordings for 8 weeks after the program ends, until March 13.
In addition, you will have access to the Ashram's Hatha Yoga classes at 5 pm ET, recorded Ashram meditations, and inspiring talk with Sri Swami Satchidananda. You will also have access to an online social community to connect and communicate with other participants about this course.
Continuing Education (CE) Opportunities
Testimonials
James, I just want to write to let you know that I thoroughly enjoyed that time together last weekend. I appreciate the LIVE part, the online part, your willingness to share your passion from your living room while your pup nonchalantly walks through, the intimacy of being in our own quiet spaces, the fact that someone I knew was in the same training just up the same street from me, the handouts (that I have already printed off) and the ability to watch the recorded sessions for weeks afterward (which I have done and will continue to do). I appreciate your humble human-ness, your care, and thoughtful sincerity, and the playful yet professional way you share your knowledge and guide your students. — K.G.

James Knight is an amazing instructor with a vast amount of knowledge. His workshops are beneficial to people of all levels—from the most basic to the advanced level students. Despite participating virtually, I felt as if I was in an in-person setting. He takes time to listen to the participants and answer all questions. I highly recommend taking a class with James! — Ruby K. Jain

James offers a program that is easily received, both in body and mind. He brings in the neuroscience aspect and also speaks from the heart. I found the positions he offered were very clear and helpful. I also appreciated the modifications. I highly recommend him! — Alexandra Whitehurst

This online LIVE workshop with James was a delightful experience! James is very approachable, honest, humble, caring, and professional. I hope to learn from him again. — Kathy Graham

James, thank you for teaching this weekend through the Yogaville Ashram. It was really something I needed as I have been looking for more healing Yin movements as opposed to stretching as you mentioned. I also have a dance background and work in the conflict resolution field so am keen on continually learning more about what movements are balancing and nourishing and work towards harmony. I would love to stay connected and thank you again for sharing your Knowledge. — A.S.
Presenter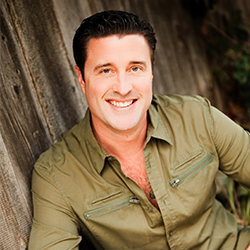 James Knight, E-RYT 200, CHSE
James has been an Integrative Therapist for over 25 years. He is a Yoga teacher (E-RYT 200) and Certified Hanna Somatic Educator (CHSE). From his combined experience as a lifelong yogi, intuitive bodyworker, psychotherapist, and movement educator, James created a method of Yoga that integrates what he discovered to be the most progressive, life-enhancing techniques into an embodied movement practice. Gentle Somatic Yoga was born out of years of exploring means of connecting and integrating the deeper aspects of the whole Self (Soma). James' passion is to awaken the possible for people living with challenges related to physical limitations. He…
Learn more about James Knight, E-RYT 200, CHSE