Create Your Happy Body Part 1 – Online
with Hope Mell, RYT 500, ATT
October 5 - 26, 2021
Tuesdays: Oct. 5, 12, 19, and 26
How are you faring these days? Are you caring for your body and mind? Are you stiff and sore or flexible and flourishing?
We are gently moving out of a pandemic, or so we hope. There are still restrictions, and still the Covid virus is causing much pain and suffering. What to do during this challenging time? Get up and move!
Join Hope Mell, a movement specialist, for an online program to explore various movement practices that will make your body happy. Using the tools of Alexander Technique and Pavanmuktasana (Joint Freeing Series), you will be guided in a practice that will transform your movement. The choice to never again move the same, painful way is yours.
Live sessions with Hope on Tuesday evenings:
Oct. 5 and 12 at 6–9 pm ET (the first two sessions are longer to include Q&A)
Oct. 19 and 26 at 6–8:30 pm ET
This workshop will include digital printouts and bonus Joint Freeing Series Practice Videos .
You will have access to the video recordings for 6 weeks after the program ends, until December 7, 2021.
In addition, you will have access to the Ashram's Online Hatha Yoga classes at 5 pm ET and access to an online social community to connect and communicate with other participants about this course.
Continuing Education (CE) Opportunities
This Part 1 program will give you a foundation for your practice, while Part 2 (which will be offered in March 2022) will cover therapeutics and a deeper study of anatomy.
Testimonials
Create Your Happy Body is such a beneficial class for anyone. Learning about joint freeing movements and how the benefits are so important in our daily lives is invaluable. I have easily been able to incorporate these moves into my daily life and I'm already seeing changes in my body. Hope is also a very caring and informative teacher who takes the time to address any questions or concerns for each person. Great class! — Lisa Powers

Hope's class on joint freeing has taught me movements and techniques that will help me for the rest of my life. Just being with Hope and the other participants during the class was a very positive caring community experience. Add on the physical techniques and it's a great combo, so glad to have been able to participate. Thank you to all. — Karen Thomas

Simply knowing the title is a sign that you will enjoy this workshop with Hope Mell. She is full of experience, knowledge and has a keen desire to help us learn from her. Sign up, you will be really happy you did. — Kristin

It was great to reconnect with Hope Mell. She is a masterclass instructor. I learned something new each week in this Happy Body program. Best of all she renewed my interest in Yoga and self-care. Thank you, Hope. — JoAnn Relich
Presenter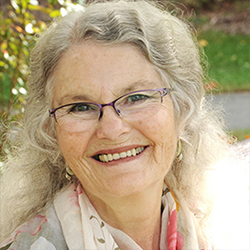 Hope Mell, RYT 500, ATT
Hope's passion and purpose are helping people find freedom in their bodies—freedom of movement and movement without pain. She found Integral Yoga® in 1967 and began her studies with Sri Swami Satchidananda. She was certified to teach Integral Yoga Hatha in 1974. Marjorie Barstow came into Hope's life in 1979, who taught her The Alexander Technique. She was certified to teach by the Alexander Alliance in Philadelphia in 1988. Hope earned her certification as a Structural Yoga Therapy teacher in 2005. For decades, she has refined her skills and developed an approach that combines the powers of Yoga and the…
Learn more about Hope Mell, RYT 500, ATT