Bhakti Together: Learning to Love, Surrender, and Serve – Online
with Gita Kali Natarajan, RYT 500
September 8 - 29, 2021
Wednesdays: September 8, 15, 22, 29
Bhakti Yoga, the Yoga of devotion, is a path dedicated to the heart. Come together for this online workshop to share your heart in sangha (spiritual community) and learn how to do the same every day in the world through love, surrender, and selfless service. Join Gita Kali Natarajan, longtime Bhakti Yoga practitioner, to explore these tenets of Bhakti Yoga through kirtan (call-and-response chanting of Sanskrit mantras), philosophy of living, and mantras (sacred sounds) for specific use in your daily life and practice. 
Live sessions with Gita on Wednesdays at 7–9 pm ET.
You will have access to the video recordings for 8 weeks after the program ends, until November 24.
In addition, you will have access to the Ashram's Live Hatha Yoga classes at 5 pm ET and access to an online social community to connect and communicate with other participants about this course. 
Continuing Education (CE) Opportunities
Testimonials
Great, loveable, fun, knowledgeable presenter.

Gita teaches from the heart. 

Gita's presence is a valuable transmission of energy. 

Gita was awesome, the real deal. 

— Past Participants
Presenter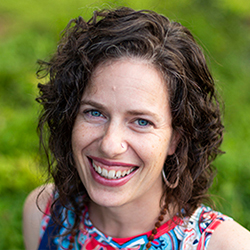 Gita Kali Natarajan, RYT 500
When Gita chants you can feel the devotion through her voice and heart. She chants as much as she can in and around DC, MD, and VA, and occasionally tours abroad. She started chanting when it became an integral part of her work with children with special needs and hasn't been able to stop. She never had a harmonium lesson or a workshop on how to lead kirtan but was led by her heart to just do it and see if anyone showed up. Over 8 years of leading kirtan, creating the DC Kirtan Festival, touring with Swami Gurusharanananda from India, and chanting…
Learn more about Gita Kali Natarajan, RYT 500