Discover Generational Imprinting and Its Effects on the Psyche – Online
with Mukta Kaur Khalsa, Ph.D.
August 14 - 15, 2021
Explore the powerful effects that the familial environment has on your psyche through the process of generational imprinting. Join Mukta Kaur Khalsa, director of SuperHealth®, for a weekend of keen awareness and deep healing brought to you through specific Kundalini Yoga kriyas, meditations, mantras, and breath techniques.
In this experiential and didactic workshop, you will:
Understand how the addictive mindset is formulated and how coping mechanisms develop
Learn simple, practical tools to help recalibrate habitual patterning
Identify ways to re-parent yourself with grace and forgiveness
Live sessions with Mukta on Saturday at 9:30–11 am and 12–1:30 pm and Sunday at 9:30–11 am and 12–1:30 pm ET.
You will have access to the video recordings for 8 weeks after the program ends, until October 10.
In addition, you will have access to the Ashram's Live Hatha Yoga classes at 5 pm ET, recorded Ashram meditations, and inspiring talks with Sri Swami Satchidananda. You will also have access to an online social community to connect and communicate with other participants about this course.
Continuing Education (CE) Opportunities
Those who wish to receive CEs will need to attend all sessions and complete a short quiz and evaluation.

Testimonials
Mukta Kaur Khalsa makes this program accessible to people who have never done Yoga as well as seasoned veterans of Kundalini Yoga and everyone in between. — Kim Balsch

Soothing and uplifting. You can't go away feeling the same way you came in. Even if you were serene upon entry, you will be even more so when you leave. This is milk and honey for the soul. — Andra Anjal Stamps

In the practices that Mukta Kaur offered us, I experienced feelings of comfort and healing on a very deep and profound level. — R.K

Mukta provided our group with a gentle, loving, guiding light that illuminated the way to self-love, forgiveness, and deeper connection with God. — Becca Bond
Presenter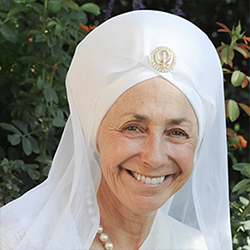 Mukta Kaur Khalsa, Ph.D.
Mukta Kaur Khalsa is the director of SuperHealth and personally trained with Yogi Bhajan for thirty years. She was the director of a specialized hospital in Tucson, AZ, that was rated in the top 10% of all programs in the United States by the Joint Commission on Accreditation of Healthcare Organizations. She is the author of Meditations for Addictive Behavior and Healing Addictive Behavior. SuperHealth is a NGO of U.N. on yogic CE provider integrating into medical community for recovery. See more at Super-Health.net
Learn more about Mukta Kaur Khalsa, Ph.D.