Yoga to Relieve Respiratory Ailments – Online
with Prashant V. Joshi, M.A. M.Phil., E-RYT 500, YACEP, C-IAYT and Manju Joshi, M.A., E-RYT 500, YACEP, C-IAYT, MCO-Osteo, HHC
December 11 - 12, 2021
For everyone, including Yoga teachers and health professionals
Learn simple, authentic, and effective yogic practices to relieve respiratory ailments, including allergies, asthma, and COPD (chronic obstructive pulmonary disorder). Not only can these practices reduce suffering, but also potentially save lives. In light of the recent Covid pandemic, we especially recognize the importance of healthy respiratory function. The teachings presented in this workshop can boost the immune system, improve overall respiratory health, and prevent and reverse many chronic diseases.
This online workshop is designed for Yoga therapists, Yoga teachers, and healthcare professionals and focuses on the importance of the therapeutic practice of specific pranayamas (breathing practices), bandhas (energy locks), mudras (energy seals), and mantras (sacred sounds) to address respiratory ailments. Use the strategies and skills learned in this course to design, implement, and evaluate individualized Yoga and holistic therapy protocols for various conditions.
The workshop includes lectures, an assessment of one's breathing capacity, and practices to improve the same. We will work in small groups with an opportunity to measure and practice.
Live sessions with Prashant on Saturday 9:30–12:30 pm, 2–4:30 pm, and Sunday at 10–12:30 pm, 2–4 pm ET.
The live sessions will be recorded and the recordings are usually posted within one day for program participants to review. Recordings will be available for review for 8 weeks after the program ends.
In addition, you will have access to the Ashram's Hatha Yoga classes at 5 pm ET and access to an online social community to connect and communicate with other participants about this course.
This course is open to all. This workshop is ideal for Yoga Therapists, Yoga teachers, and healthcare professionals, as well as anyone interested in learning more about the subject.
Continuing Education (CE) Opportunities
Yoga Alliance (YA): Approximately 12 hours (10 hours live instruction + 2 hours of self-study)
You can input your contact hours using your YA login information.
Integral Yoga Teachers Association (IYTA) can provide you a CE certificate with your program's total contact hours for a $10 fee (free for IYTA members.) For more information, email

[email protected]

.
International Association of Yoga Therapists (IAYT): Approved Professional Development (APD) course eligible for approximately 12 hours of IAYT continuing education credits. (It is the students' responsibility to request a certificate of completion and submit all required documents, hours, syllabus, etc. on the IAYT website.)

Testimonials
At our office, we have monthly pulmonary support group meetings offering a variety of related health topics. At our monthly meeting in September, Prashant and Manju of Gurukul spoke to us about the history of Yoga, and cleared up any of the patient's misconceptions about Yoga. Breathing exercises for our patients were taught, focusing on their specific needs and demonstrated with clarity. With their encouragement, the patients enthusiastically participated. Many of the patients commented that it was one of the best groups they've attended at our facility. — James L. Gilanyi, RRT

I have had the pleasure of knowing Mr. Prashant Joshi and Mrs. Manju Joshi for about 10 years. I have had the pleasure of taking Yoga classes with them. I feel that they are excellent teachers. — Thomas J. Nordstorm

I've been taking Yoga classes for the last five years and it has become such an important part of my life. My posture and balance are so much better as is my muscle tone and flexibility. Breathing and relaxation exercises have had a very positive effect and I find myself practicing them when things get stressful at work. I'm 60 years old, a cancer survivor and have never felt better. I only wish I had started classes 20 years ago! Manju and Prashant have been wonderful teachers and guides on this exciting journey. — Susan Caden
Presenters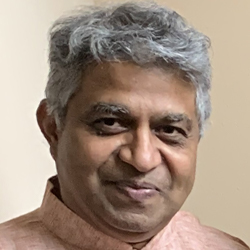 Prashant V. Joshi, M.A. M.Phil., E-RYT 500, YACEP, C-IAYT
Prashant V. Joshi, M.A. M.Phil., E-RYT 500, YACEP, C-IAYT, is an electrical engineer, computer scientist, Yoga teacher, therapist, and technology/management leader who has served in the US for over the past 25 years. Prashant has introduced yogic leadership principles to the academic and corporate world at all levels of management. He has brought Yoga to tennis courts, executive boardrooms, mental health facilities, and institutions of all sizes. He is an invited motivational speaker, a published author, and a community servant leader globally. Prashant has co-founded woman-owned social entrepreneurship initiatives, including Gurukul Yoga Holistic Center (GYHC) in 2000 and Food Yogini…
Learn more about Prashant V. Joshi, M.A. M.Phil., E-RYT 500, YACEP, C-IAYT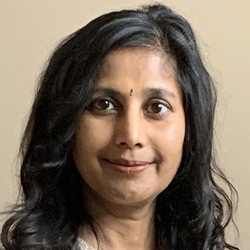 Manju Joshi, M.A., E-RYT 500, YACEP, C-IAYT, MCO-Osteo, HHC
Manju Joshi, M.A., E-RYT 500, YACEP, C-IAYT, MCO-Osteo, HHC, is the co-founder and research director of Gurukul Yoga Holistic Center (GYHC), a science of living institution and registered Yoga school (RYS 200/300) as well as an IAYT APD provider and former supporting member school of IAYT (International Association of Yoga Therapy). She has served communities globally as a Yoga practitioner, teacher, and therapist for over 25 years. She is also a published author (Good Bye from the WTC, 2008), a Reiki master, and co-founder of Food Yogini, an initiative for advocating holistic foods and goods. Manju lives in Austin, TX…
Learn more about Manju Joshi, M.A., E-RYT 500, YACEP, C-IAYT, MCO-Osteo, HHC