Raja Yoga in Daily Life – Online
with Rev. Vimala Nora Pozzi, M.A., E-RYT 500, C-IAYT, PRYT, YCat, IYM
August 28 - 29, 2021
Learn to apply the wisdom of the Yoga Sutras of Patanjali, the ancient text of Raja Yoga, to your everyday life. From gardening to relationships, from personal and professional goals to illness and death, the Yoga Sutras have an answer for every question you may have, including questions you never knew you had.
Raja Yoga, the Yoga of concentration and meditation, offers us an invitation to go on a blind date with ourselves and embark on a journey of self-discovery. By practicing Raja Yoga, we can learn more about who we really are, what we really want, and how to achieve our goals with minimal suffering and a great deal of enjoyment.
Don't let the Yoga Sutras remain an obscure, scholarly textbook full of hieroglyphics. Join us for this weekend workshop to deepen your understanding of this ancient text and discover how to apply its user-friendly guidance in the context of your own life. With familiarity, the Yoga Sutras can become a "yogi landing pad" from which we look at life with the awe of a child and the wisdom of an ancient guru. Both reside within and you can access them to face challenges in life with strength, courage, and joy.
In this online workshop, you will identify:
Some of the sources of pain and suffering in our lives
Activities and work we do but don't like, and those we like but don't do
Obstacles that blind us and don't allow us to manifest what we want or need
Sutras that can address each of the different situations in which we need to keep our peace or re-gain it
Triggers that allow us to "lose our peace," so we can find the right Sutra to minimize or prevent them
Areas of life where the Sutras could be applied: relationships, work and career, life purpose and goals, hobbies and recreation, Hatha practice, illness, pain, suffering, and death.
Textbook
Yoga Sutras of Patanjali by Sri Swami Satchidananda
If you have a copy of this book or can order it, it would be helpful to read the verses as we discuss them.
Live sessions with Rev. Vimala on Saturday at 10 am–12 pm and 2–4 pm, and Sunday at 10 am–12 pm ET.
You will have access to the video recordings for 8 weeks after the program ends, until October 24.
In addition, you will have access to the Ashram's Live Hatha Yoga classes at 5 pm ET, recorded Ashram meditations, and inspiring talks with Sri Swami Satchidananda. You will also have access to an online social community to connect and communicate with other participants about this course.
Continuing Education (CE) Opportunities
Participants who would like to receive continuing education hours will be asked to submit a short written report following the workshop.
Testimonials
Nora Vimala Pozzi helps students to capture the essence of Raja Yoga — a practice that embraces thoughtful introspection and the connection with the true self. The Raja Yoga class helped me to establish a foundation for the practice of concentration and meditation. Through class discussions, sacred study, and personal reflection these tools have influenced my journey inward. These practices help me to identify and manage the obstacles and attachments that create unease and distance from the peace within. The Raja Yoga class is an invitation to watch and examine the thoughts of the mind. In a world that is constantly vying for our mental space, the study and practice of Raja Yoga is an invaluable tool to use to help steady and calm the mind. — Diane Durga Hyde

Nora's Raja Yoga class introduced me to a path of living that is simple yet profound. Raja Yoga is practical, non-theological, [and provides] instructions about making the best life for yourself, about helping others, and about caring. It is a universal truth. Every night I left the class dizzy from pondering. Every day I find myself needing to live it more. — Jim Long

 A long-time educator, Nora infuses a sense of history in all of her Yoga classes. During her particularly fascinating class introductions, she often explains the Yoga Sutras of Pantanjali. She uses personal examples and stories very effectively and provides her students with a focus as the class begins. I find this part of her class particularly enjoyable as it helps me to compare an ancient's attempts to explain and cope with aspects of the human condition with other notable figures, such as Epictetus, the Roman Stoic, or the more contemporary Thomas Merton or the Dalai Lama. — Sharon Burnham
Presenter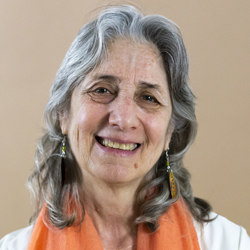 Rev. Vimala Nora Pozzi, M.A., E-RYT 500, C-IAYT, PRYT, YCat, IYM
In 1995, after working 13 years as an architect, Nora Vimala Pozzi transitioned from part-time to full-time Yoga educator and owner and director of the Richmond Integral Yoga Center (IYC). She became director of the Richmond teacher training program in 1999 and a Yoga Therapist in 2001. Her Yoga postgraduate teaching certifications from Satchidananda Ashram–Yogaville, include Advanced Hatha Yoga, Yoga for Stress Management, and Raja Yoga. Rev. Vimala has also served as faculty for the Raja Yoga TT program since 2006. She is certified in Prenatal Yoga, Yoga for Kids and Teens, Yoga for the Heart (Nischala Devi's program, based…
Learn more about Rev. Vimala Nora Pozzi, M.A., E-RYT 500, C-IAYT, PRYT, YCat, IYM