In-Depth Study of the Bhagavad Gita – Online
with Rev. Lakshmi Barsel, Ph.D.
August 9 - October 25, 2021
Mondays: August 9–October 25
Join Rev. Lakshmi Barsel, Ph.D. for an in-depth, three-month study of the Bhagavad Gita. The Bhagavad Gita is one of the great, universal world scriptures that presents the fundamentals of Yoga philosophy and practice. Written in poetic verse, it uses the frame story of the renowned Indian epic, the Mahabharata, as a backdrop.
In this online workshop we will explore the foundations of Jnana Yoga (the Yoga of Wisdom), Karma Yoga (the Yoga of Action), Raja Yoga (the Yoga of Concentration and Meditation), and Bhakti Yoga (the Yoga of Devotion) as presented by Sri Krishna—the incarnation of the Supreme Lord—to his disciple, Arjuna—a great warrior king. We will study and discuss the Gita, verse by verse, relating the depth of meaning of these timeless teachings to our own spiritual paths. We will also discuss the symbolism and hidden meanings behind key verses.
This workshop will use The Living Gita: The Complete Bhagavad Gita, A Commentary for Modern Readers by Sri Swami Satchidananda as its textbook. We will begin with Chapter 1 and go forward, allowing time for both lecture and class discussion. If you have a copy of this book or can order it, it would be helpful to read the verses as we discuss them.
Live sessions with Rev. Lakshmi on Mondays at 7:30–8:45 pm ET.
You will have access to the video recordings for 8 weeks after the program ends, until December 20.
In addition, you will have access to the Ashram's Live Hatha Yoga classes at 5 pm ET and access to an online social community to connect and communicate with other participants about this course.
The INTRO Study of the Bhagavad Gita – Online, on August 9, 16, 23, and 30, is part of this course. If circumstances prevent you from taking the 3-month course, you have the option to register for the August only workshop.
Continuing Education (CE) Opportunities
Testimonials
Rev. Lakshmi brings her heart to the study of the Bhagavad Gita, making it accessible and understandable. — Brahmi R.

I learned so many pearls of wisdom from Lakshmi Barsel. Her knowledge spans decades of self-study and personal meditation experiences. She applied yogic teachings to everyday life. She was full of compassion and humor. — Joshua Einhorn

This program was rich, deep, and inspiring, yet also accessible enough for those unfamiliar with the Gita. Reverend Lakshmi's presentation was clear and well organized and allowed for us to ask questions and receive clarification. — Claire Brees
Presenter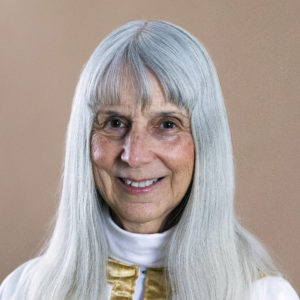 Rev. Lakshmi Barsel, Ph.D.
Rev. Lakshmi is a senior Integral Yoga teacher. She has taught Raja Yoga, meditation, and scripture classes on the Bhagavad Gita and the Thirukkural. She has a Ph.D. in linguistic anthropology and presently serves as the director of the Satchidananda Prison Project. She also co-facilitates an ongoing weekly Yoga Sutra study group with her husband Rev. Paraman
Learn more about Rev. Lakshmi Barsel, Ph.D.