Bringing More Heart and Creativity To Your Classes – Online
with Sean Johnson, E-RYT 500
August 7 - 8, 2021
For Yoga teachers and health professionals
Bhakti Yoga invites us into the universal, human experience of connecting to the mystery of life through the depths of the heart. In this program, learn helpful tips and tools for cultivating more depth, imagination, and inspiration in your asana (posture) teaching through the arts and practices of Bhakti Yoga—song, music, mantra, language, poetry, creative movement, and ritual. Seán will share insights cultivated over 20 years of merging Hatha and Bhakti Yoga in his teaching and practice and guide you into an experiential exploration of what it feels like to teach even more deeply from the authenticity of your own heart.
In this online workshop:
Open to more possibilities as a Yoga teacher of sincerely sharing what moves your heart with your students
Explore creative ways to integrate a theme into a class so that the theme is consciously woven into the body and breath rather than disconnected
Discover new ways to experience asanas you've practiced and taught many times before by transforming them into meaning-making rituals
Delve into ways to bring more energy, emotion, dynamics, and musicality to your classes
Learn simple language and techniques for making bhakti practices like chanting more accessible for a general group of students
Search for the deep, universal, human connections seeded within the depths of Yoga's spirituality, mythology, and mantras to share with your students
Live sessions with Seán on Saturday at 11 am–1 pm and 2:30–5 pm, and Sunday at 11 am–1 pm and 2:30–5 pm ET.
You will have access to the video recordings for 8 weeks after the program ends, until October 3.
In addition, you will have access to the Ashram's Live Hatha Yoga classes at 5 pm ET, recorded Ashram meditations, and inspiring talks with Sri Swami Satchidananda. You will also have access to an online social community to connect and communicate with other participants about this course.
Prerequisites
The workshop will include a 90-minute pre-recorded class with Seán to view on your own schedule before the weekend that will be referenced during the weekend. A link to this class will be emailed to you a week before the program.
This program is ideal for Yoga teachers who have some experience teaching Hatha Yoga.
Continuing Education (CE) Opportunities
Testimonials
Sean Johnson brings Bhakti Yoga down to earth and into a very attainable space to connect with your heart and those of the others in the community. I felt myself opening up to my heart's desires and digging deep into my soul to connect with what matters most in my life right now. — Michelle H. Schenker

Sean Johnson is one of the best Bhakti Yoga storytellers that I know. I love how he weaves the stories into the chanting. It's Divine. He is also one of the best teachers out there and I love the gentle way he guides those that may be new in learning the chant without letting the rest of us wait. Just BRILLIANT! This Bhakti Immersion was bliss for my soul! — Ann-Marie (Priya) Bochicchio

Sean's ability to connect to the center of your heart is an art and a talent. He willingly encouraged us to "find the bottom of the ocean of your soul". We discovered this real, safe, loving space within ourselves. The singing, harmonium, drums, and sound were the best I have heard in a Zoom workshop. The frequency of my mind-body during the singing, storytelling, and art expression of coloring and writing was the true BHAKTI practice. We all shine that One connected Light. Sean's experience of teaching Bhakti Yoga is over many years; his practice and education speaks for itself. — Charlotte Connick Mabry
Presenter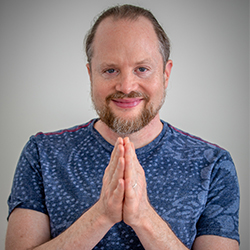 Sean Johnson, E-RYT 500
Seán is a Yoga teacher, teacher trainer, and musician who teaches at conferences and retreat centers internationally including Yoga Journal, Kripalu, Bhakti Fest, and The German Yoga Conference. He is the founder of Wild Lotus Yoga in his beloved hometown dubbed "New Orleans' Home for Heart-Centered Yoga," and Soul School, an interdisciplinary online Yoga teacher training program that focuses on teaching Yoga with skill, heart, and imagination that he guides with Mitchel Bleier. He has a master's degree from The Naropa Institute-Oakland with a focus on teaching chant as a spiritual practice. He apprenticed there with south Indian musician and…
Learn more about Sean Johnson, E-RYT 500