Treasured Gurudev Stories – Online
with Rev. Paraman Barsel
July 6 - 27, 2021
Tuesdays: July 6, 13, 20, 27
Rev. Paraman Barsel was graced to be in the presence of the esteemed spiritual teacher Sri Swami Satchidananda, known affectionately as Gurudev, from the 1960s onwards. Join him as he shares enlightening, fun-filled, revelatory, and life-transforming experiences from his decades spent with Sri Gurudev.
Every encounter with the beloved spiritual master Swami Satchidananda was a precious moment outside of time that lifted students out of their minds' limits to experience themselves closer to Divine essence. Put another way, whenever Gurudev "entered the room," every molecule of that space was changed forever. This was not just the special privilege of a few disciples. That light of wisdom continues to grace us all, now and into the future. Some of the best Gurudev stories are happening right now or are yet to be experienced.
Live sessions with Rev. Paraman on Tuesdays at 7:30–8:45 pm ET.
You will have access to the video recordings.
In addition, you will have access to the Ashram's Live Hatha Yoga classes at 5 pm ET and access to an online social community to connect and communicate with other participants about this course.
Testimonials
I found…Paraman so helpful, honest, easy-going, intelligent, willing, and [he] provided wonderful examples! — Michele Fischer

Love his playfulness and humor. — Melissa Meyers

Thank you for being such a good channel for God's light, love, and works. Om Shanti! — Art
Presenter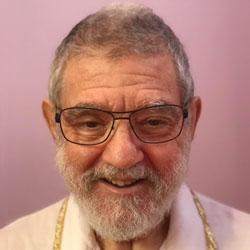 Rev. Paraman Barsel
Reverend Paraman Barsel has been a disciple of Sri Swami Satchidananda since 1970. He has served as president of Yogaville West, the Washington D.C. IYI, New York IYI, and Yogaville East in Connecticut and has served on the Board of Trustees and Spiritual Life Board at Satchidananda Ashram-Yogaville, Virginia, and was co-coordinator of the LOTUS dedication. Paraman was the editorial consultant on Inside the Yoga Sutras by Rev. Jaganath Carrera as well as several of Sri Swami Satchidananda's works including the Yoga Sutras of Patanjali. He helped to design the first Integral Yoga Hatha Basic Teacher Training program and has…
Learn more about Rev. Paraman Barsel