Relax into the Holidays with Restorative Yoga – Online
with Satya Greenstone, E-RYT 500, C-IAYT
December 4 - 5, 2021
During the holidays, we are often preoccupied with the season's hustle and bustle.
In this online workshop, experience deep relaxation and rejuvenation during a time period when it's needed most. Restorative Yoga places your body in gentle, supported asanas (poses) with the use of props, allowing your mind to truly let go. Restorative Yoga is a simple, effective antidote to stress, tension, and anxiety.
Recharge your batteries for the season with a body at rest and a calm mind, in order to experience the peace within.
This online workshop offers:
Complete instruction in gentle restorative poses
Balanced sequences of Restorative Yoga
Yoga practices for stress management, relaxation, and rejuvenation
Gentle poses that enhance the breathing capacity
Simple poses for everyday practice
Healing aspects of Restorative Yoga
Since the poses are supported by props, they can be held effortlessly for an extended period of time. This results in a state of deep relaxation, where the innate intelligence of the body becomes balanced and the entire system returns to its natural state. The supported poses are also beneficial during times of major life changes, stress, crises, or when recovering from an illness or injury.
Live sessions with Satya on Saturday at 9:30–11:30 am and 2–4 pm, and Sunday at 9:30–11:30am ET.
You will have access to the video recordings for 8 weeks after the program ends, until Jan. 30, 2022.
In addition, you will have access to the Ashram's Live Hatha Yoga classes at 5 pm ET, recorded Ashram meditations, and inspiring talks with Sri Swami Satchidananda. You will also have access to an online social community to connect and communicate with other participants about this course.
Continuing Education (CE) Opportunities
Testimonials
A completely relaxing experience with informative insights on how to support the body's systems, I can recommend this program. — Sharon Allport

Doing a restorative practice in your own safe space, with your own personal comfort items, is an amazing soul-soothing experience. I learned how to set up restorative poses and the purpose of the poses—all while enjoying the benefits of practicing these poses. This was the most relaxing learning experience! — Sandi

Modern life catches us in stress—resulting in feeling like we are not supported by the earth nor by our body. Restorative yoga with Satya Greenstone allows a new connection with the body and opens up inner resources one might not be aware that we have. Deep rest from deceptively simple restorative poses refuels us in profound ways, allowing the body to release the unnecessary and heal and after resting we can move into activity with a resilience that echoes back to the buoyancy we had as children. — Past Participant

Satya combines a depth of knowledge with a warm and loving presence. She is articulate and patient and my experience in this Restorative Yoga workshop was very positive despite the distance inherent in the online format (like everyone, yearning for LIVE!) The handouts are excellent and will be a useful reference and reminder for the future. — Lee Whitridge
Presenter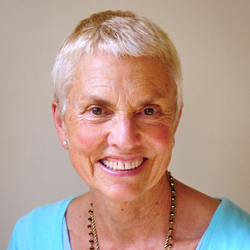 Satya Greenstone, E-RYT 500, C-IAYT
Satya Greenstone has been a student of Sri Swami Satchidananda since 1971. She has shared the teachings of Integral Yoga® in many diverse settings with students of all ages and backgrounds and combines a natural, practical, down-to-earth approach to Yoga with a gentle humor. Since 1999 she has been a primary teacher for the 200-hour and the Intermediate Integral Yoga Teacher Training programs. While serving as teacher training coordinator, she helped to develop and teach the first Gentle Yoga Teacher Training program. She has also developed and teaches training programs in Restorative Yoga, Adaptive Yoga, and Yoga and Meditation for…
Learn more about Satya Greenstone, E-RYT 500, C-IAYT