Exploring the Fabric of a Virtuous Life: The Thirukkural – Online
with Rev. Lakshmi Barsel, Ph.D.
June 21 - July 12, 2021
Mondays: June 21, 28, July 5, 12
One of Swami Satchidananda's most beloved and oft-quoted scriptures was the Thirukkural. Written by Thiruvalluvar, one of South India's greatest saints and poets, the Thirukkural weaves the fabric of living a virtuous life. The poetry of this beautiful Tamil scripture speaks directly to modern readers from every culture around the world. Its universal, ethical themes reflect a deep wisdom and an understanding of the hearts of all people, so much so that scholars from many different faiths have proposed that Thiruvalluvar was influenced by the teachings of their own religious founders.
Thiruvalluvar played with language, cajoling his readers into right conduct. He wrote in a special type of Tamil short couplet, similar in brevity and evocativeness to Japanese haiku and lending itself to multiple layers of meaning. His words are at turns loving, kind, and playful. But when called for, he holds up a mirror to human nature to expose hypocrisy, meanness, and selfishness.
In this workshop, we will introduce the major themes of the first book on Dharma (Virtue), exploring selected verses from its 42 chapters. We will explore his sage advice to householders on domestic life, love, sweet speech, forbearance, self-control, social obligation, and fame. From the chapters directed toward monastics, we will discuss kindliness, tapasya (austerity), truthfulness, not hurting others, impermanence, and renunciation, which you will find are topics of great benefit to one and all.
Because the themes of the Thirukkural are so relevant to most people, we have found that one of the best ways to probe its depths is by lively discussion among all who wish to join us.
Live sessions with Rev. Lakshmi on Mondays at 7:30–8:45 pm ET.
You will have access to the video recordings for 8 weeks after the program ends, until August 29.
In addition, you will have access to the Ashram's Live Hatha Yoga classes at 5 pm ET and access to an online social community to connect and communicate with other participants about this course.
Continuing Education (CE) Opportunities
Testimonials
I learned so many pearls of wisdom from Lakshmi Barsel. Her knowledge spans decades of self-study and personal meditation experiences. She applied yogic teachings to everyday life. She was full of compassion and humor. — Joshua Einhorn

Reverend Lakshmi's presentation was clear and well organized and allowed for us to ask questions and receive clarification. Although I attended each session, I'm grateful that I have access to the recordings which I can re-visit. — Claire Brees
Presenter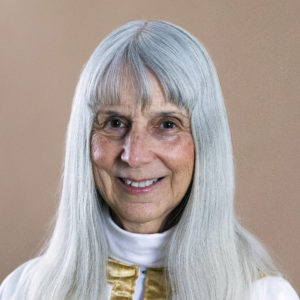 Rev. Lakshmi Barsel, Ph.D.
Rev. Lakshmi is a senior Integral Yoga teacher. She has taught Raja Yoga, meditation, and scripture classes on the Bhagavad Gita and the Thirukkural. She has a Ph.D. in linguistic anthropology and presently serves as the director of the Satchidananda Prison Project. She also co-facilitates an ongoing weekly Yoga Sutra study group with her husband Rev. Paraman
Learn more about Rev. Lakshmi Barsel, Ph.D.