Wherever You Are, There Is Connection – Online
with Swami Gurucharanananda "Mataji"
June 12 - 13, 2021
After almost a year and a half of the pandemic's necessary restrictions, there is a thirst for togetherness. Many people feel alone and even disconnected from society. Join senior sannyasin Swami Gurucharanananda, lovingly called "Mataji", for a joyful weekend of connection.
Unity is at the heart of true community. We all long for that kind of deep connection in our relationships. In this online workshop, you'll discover the highest source of connection and communication lies not outside, but within each of us. And by finding this connection, we become closer to all.
Clear your weekend! We look forward to being with you!
Live sessions with Mataji on Saturday at 10–11:30 am and 2–3:30 pm and Sunday at 10–11:30 am ET.
You will have access to the video recordings for 8 weeks after the program ends, until August 8.
In addition, you will have access to the Ashram's Live Hatha Yoga classes at 5 pm ET, recorded Ashram meditations, and inspiring talks with Sri Swami Satchidananda. You will also have access to an online social community to connect and communicate with other participants about this course.
Continuing Education (CE) Opportunities
Testimonials
Being with Mataji is an experience of love. Her spoken words are filled with astounding knowledge and understanding. Mataji communicates directly to your heart. If your heart is not open at the beginning of each session it will be open by the end—every time! — Michael Selzer DDS

My overall experience was JOYFUL!! It was truly such a gift I chose to give myself to be in the presence of Mataji, listen to her beautiful words of wisdom, watch her smile, speak from her heart and share her love, light, blessings, peace, and contentment with all that were blessed to view her teachings. I will always cherish watching her sing and chant as she smiles with such love and devotion. She is truly such a gift and inspiration to all. Thank you, Beloved Mataji. — Shankari

I haven't been this engaged in any experience in so long this year. Mataji, you are the personification of divine bliss and empathy and I am so blessed to have had this opportunity to learn from you. Your wisdom is so practical and uplifting that it is a no brainer to apply it. Thank you to everyone at Yogaville for making this workshop transmit so seamlessly and wonderfully! See you soon! — Debjani Roy
Presenter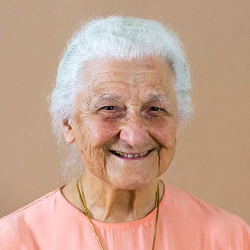 Swami Gurucharanananda "Mataji"
Swami Gurucharanananda, lovingly called Mataji, is a senior sannyasi (monk) and disciple of Gurudev, Sri Swami Satchidanandaji Maharaj. She lives at Yogaville and serves on the Sannyas Board. Mataji is a guided meditation leader and Hatha Yoga teacher, an inspiring speaker, Integral Yoga® mentor, and private retreat guide. She loves to offer pujas (worship service), read Sri Gurudev's teachings at lunch, and play the violin as a wake-up call in the dorms! In 2014 she was awarded the Swami Satchidananda Lifetime Service Award. Mataji always has a loving, joy-filled smile ready for you!
Learn more about Swami Gurucharanananda "Mataji"