Yoga Mind: 7 Tools for Becoming a Spiritual Surfer – Online
with Suzan Saraswati Colón, RYT 200
May 5, 2021
Sri Swami Satchidananda said, "You can't stop the waves, but you can learn to surf." This past year has taught us that we definitely can't stop the waves. Now it's time to put together a spiritual surfboard that will carry you through challenging times, and beyond.
Join Suzan Saraswati Colón, Integral Yoga teacher and author of Yoga Mind: Journey Beyond the Physical, for a 90-minute workshop on how to incorporate 7 essential Raja Yoga principles into your life to help you manage stress and enhance what matters most to you. We will meditate, breathe, learn practical, modern-day applications for ancient tools for personal growth, share in community, and learn to be strong spiritual surfers. Jai!
This workshop is suitable for all levels. No prior meditation or Yoga experience is necessary.
Live session with Suzan on Wednesday at 7–8:30 pm ET.
You will have access to the video recordings for 8 weeks after the program ends, until June 30.
In addition, you will have access to the Ashram's Live Hatha Yoga classes at 5 pm ET and access to an online social community to connect and communicate with other participants about this course.
Continuing Education (CE) Opportunities
Testimonials
Suzan Colón's Yoga Mind is a much-needed collection of mental and physical exercises anyone can do—and I mean anyone, with any body, any limitations of time, health, or mobility. It's an inspiring introduction for beginners and a terrific enhancement for longtime practitioners. These thirty lessons left me feeling grounded, renewed, and grateful for Colón's warm, practical, and refreshingly skeptical guidance. I felt like I'd been on a short daily Yoga retreat with a good friend. I'll be giving this book to friends and family for a long time. — Suzanne Morrison, author

Yoga Mind takes us on a deep and delightful journey on how yoga can benefit our day-to-day lives. There is practical wisdom on each page, delivered with such wit that I found myself laughing out loud. The format of the book is ingenious: a personal story of dealing with tragedy, mixed with specific lesson plans for spiritual growth, and one of the most concise and clear summaries of the yogic path that you will find anywhere. — Swami Asokananda, President, Integral Yoga Institute of New York City

In Yoga Mind, longtime yoga teacher Suzan Colón gives us a set of daily 'spiritual tools' designed to change our lives. Whether you have a yoga practice or are just starting one, her plan elevates the power of physical movement to the next plane. In down-to-earth, empathetic prose, Colón asks us to ponder how to express positive human values such as kindness, compassion, honesty, and mindful communication and illuminates them with stories from her own life. It might seem that these qualities are in short supply today, but Colón teaches us that they're waiting inside all of us, ready to be coaxed out. Step by step, and with great generosity, she shows us how. — Barbara O'Dair, Editor in Chief, Prevention

Yoga Mind gets to the heart of yoga by exploring practical and accessible ways anyone can bring yoga into their life, even if they can't do a single pose. A wonderful resource that exposes these powerful tools and shows us how to implement them in order to bring more peace and ease into our everyday life. — Jivana Heyman, founder, Accessible Yoga
Presenter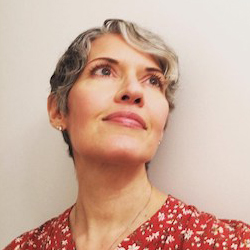 Suzan Saraswati Colón, RYT 200
Suzan Colón is the author of Yoga Mind: Journey Beyond the Physical: 30 Days to Enhance Your Practice and Revolutionize Your Life from the Inside Out (Scribner) and other books. Suzan is an Integral Yoga Institute NY teacher and has been following the IYI path of Yoga for 30 years. Always interested in active meditation, Suzan is the creator of MedKNITation®, a form of meditation using knitting and crochet. For more, visit suzancolon.net, and follow Suzan on Instagram @suzanacolon.
Learn more about Suzan Saraswati Colón, RYT 200