Embrace the Inner Mama: Yoga for Before and After Childbirth – Online
with Rev. Dr. Viviana Collazo, E-RYT 500, CPYT
May 8 - 9, 2021
For Yoga teachers, health professionals, pregnant/postnatal participants with an existing Yoga practice
Embrace your inner mama in this online workshop designed to introduce you to safe Yoga practices to support all stages of pregnancy and the postnatal period.
Yoga can help pregnant students cultivate mental relaxation and body awareness, boost energy, lessen common pregnancy discomforts, and promote concentration and stamina in preparation for delivery.
Gain the skills to modify your own practice or guide your pregnant students in Yoga sessions that are both empowering and safe. Build your confidence in inspiring your students to connect with their unique experience of pregnancy through the practice of asanas and proper breathing.
This workshop will also provide insightful Yoga tips on how to bring forth recovery, strength, and body alignment after childbirth. You will also learn a potent maintenance Yoga routine for nursing parents.
This course is recommended for Yoga teachers, doulas, lactation consultants, and other facilitators in maternity care to learn how to adjust classes to participants in all stages of pregnancy and postpartum with posture modifications and breathwork. Pregnant and postnatal participants with an existing Yoga practice will also benefit from this course by learning to modify their own practice as pregnancy progresses and prepare the body for birth and postpartum.
Live sessions with Dr. Collazo on Saturday from 10 am–12 pm and 2–4 pm, and Sunday from 10 am–12 pm and 2–4 pm ET.
You will have access to the video recordings for 8 weeks after the program ends, until July 4.
In addition, you will have access to the Ashram's Live Hatha Yoga classes at 5 pm ET, recorded Ashram meditations, and inspiring talks with Sri Swami Satchidananda. You will also have access to an online social community to connect and communicate with other participants about this course.
Continuing Education (CE) Opportunities
If you'd like to receive a Prenatal Yoga Certification, please consider Viviana's Prenatal Yoga Training tentatively scheduled for September 16–19, 2021.
Testimonials
Dr. Collazo is an excellent presenter! She made learning the concepts easy and left us all with a sense of comfort in being able to share the knowledge we gained. Her manual and handouts visually added to the information she presented verbally and her demonstration of asanas and techniques with modifications were very helpful. — Carlisa J. Hurtt

Rev. Viviana Collazo was an amazing teacher and guide during this class. She was very attentive and available. She provided us with so much information and knowledge that makes me feel prepared to move forward as a prenatal Yoga teacher and apply these techniques. Viviana did a wonderful job at connecting with her students, which is very difficult to do when teaching virtually. Her camera positioning was also very helpful when teaching us poses, floor work, and simple sitting positions for the mother. I hope I get to take another class with Viviana in the future. — Roberta Lacefield

I loved this class. I am not pregnant and was pleasantly surprised at how I could still connect with the teachings and the practice. She was very well organized, started each session on time, and taught the content she had committed to teach. Her support material was very well done and very useable. She cared about whether we were learning and understanding. Great experience, very kind and compassionate teacher. I would recommend this program to other women who are expecting a baby. — Past Participant
Presenter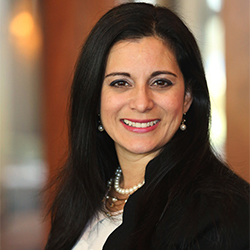 Rev. Dr. Viviana Collazo, E-RYT 500, CPYT
Viviana has been teaching Hatha Yoga, meditation, Ayurveda, Metaphysics, Reiki, and other energy balancing methods since 2000. She lives in the Central Florida area and serves as a Yoga/Meditation teacher and spiritual counselor. Her passion is working with pregnant women; from private lessons to hospital settings, and she has been working as a Prenatal Yoga teacher since 2007. Viviana has been an Ordained Minister since 2006. In 2012, she received a Doctorate Degree in Metaphysical Studies and Comparative Religious studies through the Alliance of Divine Love International Ministry. Her dissertation was titled: Journey through a Conscious Spiritual Pregnancy and Birthing.…
Learn more about Rev. Dr. Viviana Collazo, E-RYT 500, CPYT