Spring Integral Yoga Retreat – Online
with Swami Gurucharanananda "Mataji"
April 22 - 25, 2021
Join us for the Spring Integral Yoga Retreat: From Bondage to Liberation, and discover how the various paths of Yoga help us move from suffering to supreme peace. In daily life, we face numerous binding challenges. Now, over a year into a pandemic, we could all benefit from a special time to revitalize, rejuvenate, and re-strengthen ourselves to face these challenges. Integral Yoga provides the practices that assist us in overcoming the difficulties we face, helping us to heal the tensions and anxieties of the mind and body and reclaim our inherent freedom and bliss.
For over fifty years, Integral Yoga has offered silent retreats to provide participants with the opportunity for inner reflection and serenity. By cultivating silence and stillness, mental and emotional clarity develops, allowing one to experience the peace within. This year, Yogaville is bringing the annual spring retreat to you online, allowing you to access all the powerful programs and classes at home for a comprehensive and uplifting personal retreat.
We invite you to observe silence to receive the maximum benefit from the retreat, however, we recognize that obligations of daily life at home may make speech necessary for some. For those yearning for the silent retreat experience, we will guide you to transform your home into a quiet sanctuary. For those who are caretakers or busy householders for whom speech is required, we welcome you to join the sessions and weave them into your daily obligations.
No matter your approach, the Spring Integral Yoga Retreat will uplift you with engaging talks, daily Yoga practices, and opportunities for inner reflection. Explore the paths and practices of Integral Yoga and how they help us move from bondage to spiritual liberation, from suffering to supreme peace.
This retreat provides:
Opportunities to experience inner and outer peace and tranquility
Instruction in pranayama (yogic breathing techniques), meditation, and Hatha Yoga
Inspiring talks by Integral Yoga senior practitioners, ministers, and swamis (monastics)
You will have access to the video recordings for 8 weeks after the program ends, until June 20.
In addition, you will have access to the Ashram's Live Hatha Yoga classes at 5 pm ET, recorded Ashram meditations, and inspiring talks with Sri Swami Satchidananda. You will also have access to an online social community to connect and communicate with other participants about this course.
What to Expect
Since 1970, Integral Yoga Silent Retreats have provided the solace everyone needs from time to time. You will have the opportunity to immerse yourself in silence while teachers offer experiential classes in Yoga philosophy, meditation, breathing techniques, Yoga postures, and deep relaxation.
All Are Welcome
These retreats are open to everyone, from beginners to advanced Yoga retreatants. Those who are new to meditation or Yoga practices will receive full instruction, while those with experience will have the opportunity to deepen their practice.
Testimonials
This was the best thing I have ever done for myself and my family. I feel grounded, at ease, and ready to face the world with peace and love. — Connie Yanez

Mataji is the person to listen to for encouragement during these challenging times. — Premajyoti (Carolyn) Green

Mataji, as you know, is an incredibly wise and wonderful person. Sharing her energy, even via an online platform, is just lovely. Her insights and humor encourage me to grow in positive ways and keep coming back. Any time spent with Mataji is time well spent. Her vibration is so high, so good, so loving, and her wisdom and insight are invaluable for those of us on a spiritual path. — Clover

Mataji answers unasked questions. She speaks from her heart and straight into yours and often it is just what you were wondering about. Her guidance is gentle, kind, and humorous. However, firm, strong guidance is also part of her teaching. Just what's needed! — Lolly Bower
Presenter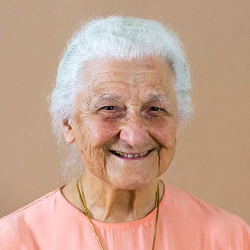 Swami Gurucharanananda "Mataji"
Swami Gurucharanananda, lovingly called Mataji, is a senior sannyasi (monk) and disciple of Gurudev, Sri Swami Satchidanandaji Maharaj. She lives at Yogaville and serves on the Sannyas Board. Mataji is a guided meditation leader and Hatha Yoga teacher, an inspiring speaker, Integral Yoga® mentor, and private retreat guide. She loves to offer pujas (worship service), read Sri Gurudev's teachings at lunch, and play the violin as a wake-up call in the dorms! In 2014 she was awarded the Swami Satchidananda Lifetime Service Award. Mataji always has a loving, joy-filled smile ready for you!
Learn more about Swami Gurucharanananda "Mataji"