Ayurveda for Yoga Teachers – Online
with Letícia Padmasri, M.A., E-RYT 500, C-IAYT, YACEP
April 2 - 23, 2021
Fridays: Apr. 2, 9, 16, and 23
For Yoga teachers and health professionals
Expand your study of Yoga by learning Ayurvedic concepts and how to integrate them into your Yoga classes and your personal practice in this online workshop.
Ayurveda shares the same goal as Yoga, its sister science. It offers practitioners a method for achieving better health, not simply as an end in itself, but as a basis for self-knowledge and understanding of our true nature.
Undoubtedly, both Yoga and Ayurveda have their own exclusive benefits, however, they are designed to be practiced together, each supporting and enhancing the other. Ayurveda can help you manage your time and self-care rituals so you can feel grounded and serve from a balanced place. It offers simple and elegant ways to support Yoga teachers who are burnt out, overwhelmed, and desire more time and energy for their own practice.
Join Padmasri for this introductory online course and you will:
Understand the rhythms of nature and how they influence you and your students
Create an Ayurvedic self-care routine to help you to stay dedicated to your practice
Learn how to adjust the Yoga practices for you and your students based on time of life, seasons, etc.
Practice routines that are balancing for each dosha (constitution): vata, pitta, and kapha
Learn how to tailor Yoga classes according to each dosha
Live sessions with Padmasri on Fridays at 2–3:30 pm ET.
You will have access to the video recordings for 8 weeks after the program ends, until June 18.
In addition, you will have access to the Ashram's Live Hatha Yoga classes at 5 pm ET and access to an online social community to connect and communicate with other participants about this course.
Continuing Education (CE) Opportunities
Testimonials
What a full and wonderful experience. Padmasri is a warm, funny, knowledgeable, and enthusiastic teacher. Her ability to combine Ayurvedic and Integral Yoga teachings are unmatched. Her dosha-pacifying Hatha classes were a real treat, and the best Hatha I've ever experienced. — Meghan King

This workshop came at a perfect time to help my understanding of energy and its connection to nature. Leticia Padmasri brought knowledge, grace, and awareness of gunas and doshas. The physical asana practice took my practice to just the right level. — Judith Knight

Padmasri is delightful. She lives what she teaches. Her heart is full and she's very knowledgeable. Her light and love are inspiring. — Mollie Robertson
Presenter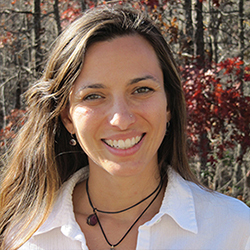 Letícia Padmasri, M.A., E-RYT 500, C-IAYT, YACEP
Letícia Padmasri is an Ayurvedic Lifestyle Consultant, a certified Advanced Integral Yoga® Hatha teacher, and a certified Raja Yoga teacher. She holds a bachelor's degree in exercise science, a master's degree in education, and has dedicated many years towards the study of exercise physiology. She combines her love for the sciences of Yoga and Ayurveda with her interest in the body's structure and function, helping students of all levels adapt their practices to achieve optimal health and total well-being. In addition to being one of Yogaville's primary teacher trainers, she also offers workshops and seminars in the US and Brazil.…
Learn more about Letícia Padmasri, M.A., E-RYT 500, C-IAYT, YACEP