Journey Into Bhakti Yoga – Online
with Dr. Edwin Bryant, Ph.D
April 3 - 4, 2021
Join Dr. Edwin Bryant, renowned scholar and professor of Yoga and Hindu philosophy, for a deep dive into ancient yogic texts and the devotional practice of Bhakti Yoga.
This online workshop will consist of a reading of selections of the best known and loved Bhakti Yoga stories and teachings from the Bhagavata Purana, arguably the most influential Bhakti text in ancient India.
This workshop will feature stories of bhaktas (practitioners of Bhakti Yoga) and of Bhagavan (Divine) as the recipient of bhakti. Constant reference will be made to the Yoga Sutras of Patanjali and the Bhagavata Purana.
Live sessions with Dr. Bryant on Saturday from 10 am–12 pm and 1–3 pm, and Sunday 10 am–12 pm ET.
You will have access to the video recordings for 8 weeks after the program ends, until May 30.
In addition, you will have access to the Ashram's Live Hatha Yoga classes at 5 pm ET, recorded Ashram meditations, and inspiring talks with Sri Swami Satchidananda. You will also have access to an online social community to connect and communicate with other participants about this course.
Testimonials
Dr. Bryant is a brilliant scholar and an amazing communicator. When it comes to relaying intricate and sometimes conflicting views about esoteric angles of abstruse subjects, care (above all else) is called for, and Bryant cares, cares very deeply to get the point across as clearly and as vividly as possible; and he succeeds in this nearly impossible task. — Ulf

Edwin Bryant is brilliant! Encyclopedic but not pedantic. — Subir Nag

Edwin Bryant is profoundly familiar with Sanskrit, the Vedas, the Bhagavad-Gita, and Puranas, and he brings a wealth of knowledge to the Sutras. — Noel M. Parenti
Presenter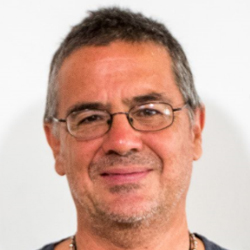 Dr. Edwin Bryant, Ph.D
Edwin Bryant received his Ph.D in Indic languages and Cultures from Columbia University, where his thesis culminated in his first book: The Quest for the Origins of Vedic Culture (Oxford University Press, 2001). He taught Hinduism at Harvard University for three years and is presently the professor of Hinduism at Rutgers University where he teaches courses on Hindu philosophy and religion. He has received numerous awards and fellowships, published eight books, and authored a number of articles on the earliest origins of the Vedic culture, yoga philosophy, and the Krishna tradition. These include a Penguin World Classics translation of the…
Learn more about Dr. Edwin Bryant, Ph.D