The Power of Yoga and Healthy Lifestyle for Radiant Living – Online
with Amrita Sandra McLanahan, M.D.
February 3 - 24, 2021
Wednesdays: Feb. 3, 10, 17, and 24
Invest in your health and discover how Yoga and other lifestyle remedies help activate the power of healing within us. Join Dr. Amrita McLanahan, Yogaville's celebrated integrative medical practitioner, for this online workshop to establish a radiant, healthy life.
Learn how to develop a healthy lifestyle through:
Yoga postures and breathing
Optimal nutrition and the best diet for you
Mindfulness and meditation in action
Movement and exercise
Ayurvedic approaches
Additionally, explore the benefits of natural tools such as fasting, cleansing, aromatherapy, massage, and other healing modalities for personal rejuvenation.
Using the Raja Yoga approach, discover how emotions affect health and how to maintain a joyful mind in the context of the spiritual foundations of living. Establish emotional wellbeing and learn skillful attitudes for interacting with different types of people using the "Four Locks and Keys" of Raja Yoga.
This workshop also offers the opportunity to address your own personal health issues, including heart disease, high blood pressure, arthritis, diabetes, high cholesterol, weight loss, and more.
Live sessions with Dr. McLanahan on Wednesdays at 2–3 pm ET.
You will have access to the video recordings for 8 weeks after the program ends, until April 21.
In addition, you will have access to the Ashram's Live Hatha Yoga classes at 5 pm ET and access to an online social community to connect and communicate with other participants about this course.
Testimonials
Dr. Amrita made important things easy to understand. She is so open to following up after the class and continuing to give participants individual help. Very approachable and fun. She is a wealth of information and gives participants many references for further study. — Sherie A. Lindamood

Dr. Amrita is a very knowledgeable and experienced healer who is also humble and loving. Great classes! I highly recommend it. — Joan Morris

Dr. Amrita is very personable and conveys content with humor and passion. It was informative and enjoyable. It was also good to have current information. Dr. Amrita knows her material and is a wealth of valuable information on health. She answered questions and offered practical tips for implementation. Dr. Amrita is knowledgeable and offers a wealth of easy to understand information about health and how to improve. She is funny and full of passion for helping people to live their best life through good nutrition, laughter, stress management, and movement. — Melanie Hester
Presenter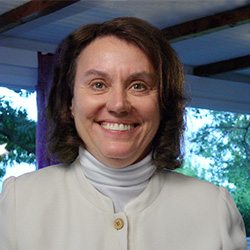 Amrita Sandra McLanahan, M.D.
Dr. McLanahan is a graduate with high honors of Swarthmore College, and she has an M.D. from Wayne University and a family practice specialty from the University of Massachusetts. For twenty years, she served as director of stress management for Dr. Dean Ornish's research, using Yoga and lifestyle changes to reverse heart disease and cancer. She now practices integrative medicine at Yogaville. Dr. McLanahan has made multiple study trips to India and Asia, where she visited centers that use Yoga and other natural means to prevent and treat disease. She is the co-author of the book, Surgery and Its Alternatives and…
Learn more about Amrita Sandra McLanahan, M.D.