Body Liberation Dance – Online
with Oyámie Kali Ma'at, RYT 500
March 6 - 7, 2021
Body Liberation Dance is a freeform expressive dance and movement that takes us on a journey of self-discovery to unearth the truth that lies within. This experiential practice focuses on releasing emotion and trauma through somatic movement.
Oyámie will hold space for your own creative experience and facilitate a dynamic movement practice accompanied by music.
In this online workshop, you will:
Practice somatic embodied movements and techniques for trauma release and emotional alchemy
Learn the importance of cultivating breath and sensory awareness in movement
Gain an understanding of the effects of movement through awareness of the body+mind connection
Additionally, engage in group discussions on:
Identifying and releasing the armors that create separation within the self and others
How our discomfort with emotions holds us back in every area of our lives and prevents us from living fully
How to embrace the shadow and light to unearth the truth that lies within
When we are able to let go, the natural flow of life dances us. We move to escape from our burden, pain, and suffering. We move to become who we are meant to be. Join us to move consciously, intentionally, and freely—to let go, release, and heal together as one.
We will also take part in journaling exercises during this workshop. Please prepare to attend the live sessions with a journal/notebook and a writing utensil.
Live sessions with Oyámie on Saturday at 9:30 am–12:30 pm and 2–5 pm, and Sunday at 9:30 am–12:30 pm ET.
You will have access to the video recordings for 8 weeks after the program ends, until May 2.
In addition, you will have access to the Ashram's Live Hatha Yoga classes at 5 pm ET, recorded Ashram meditations, and inspiring talks with Sri Swami Satchidananda. You will also have access to an online social community to connect and communicate with other participants about this course.
Continuing Education (CE) Opportunities
Testimonials
Oyámie is an extra special light to have witnessed. She truly allowed me to release myself. Her spirit is strong. Tres Forte! — Ashley Odden

The Body Liberation Dance with Oyámie sealed the retreat, it was the most beautiful freedom/connection experience of bliss. I super appreciated the art experiences to be more in my body after absorbing so much information. — Melissa Hill

Body Liberation Dance was an experience that defies words. Truly transformative. — Kristina Berney

​I was very excited and a little nervous to try Body Liberation Dance with Oyámie. But from her personality to the playlist, to the space that she held, I felt supported and safe to move my body; to freely express myself. I have participated in workshops with Oyámie several times and each time I learn something remarkable about myself. — Rebecca E.
Presenter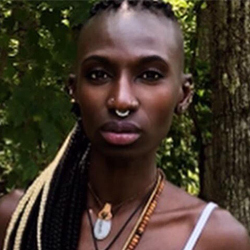 Oyámie Kali Ma'at, RYT 500
Oyámie Kali Ma'at is a Body-Oriented Psychospiritual Healing Coach. She is the founder and creator of Somatic Activation Release Response (SARR), Embodied Wisdom of Sensuality, and Body Liberation Dance. Since 2014, Oyámie has dedicated herself to practicing Yoga, meditation, breath-work, attuning, and looking to nature for guidance. Through developing mind-body awareness, studying body-oriented psychotherapy and somatic healing, she developed a body base modality that is accessible to all. https://bodyorientedhealing.com/ Born and raised in West Africa, Oyámie Kali Ma'at spent most of her childhood in community gatherings of musicians, drummers, and dancers. Listening and dancing to music became a foundation for…
Learn more about Oyámie Kali Ma'at, RYT 500