Create Your Happy Body – Online
with Hope Mell, RYT 500, ATT
February 2 - 23, 2021
Tuesdays: Feb. 2, 9, 16, and 23
Join Hope Mell, a skilled instructor of Integral Yoga and the Alexander Technique, for a treasure hunt to find physical freedom, happiness, and ease. During this online workshop, you will learn a gentle practice to keep your body and joints open and free.
Over the course of four weeks, we will experience how our bodies are designed to move. Explore how balance is of primary importance when engaging in movement of any kind, especially movement focused on healing. Come and play by moving each joint through its natural range of motion and learning to correct our movement so every joint can be free. Discover how we are self-healing creatures and learn a simple practice that creates big results.
Enjoy more in your life, and live the life of your dreams.
This year's online class has a new format; instead of two big days of class, we will be meeting four evenings in February. This will give us more assimilation time and practice with multiple Q&A sessions.
Most of us have been moving a lot less than usual while sheltering in place and working from home. Are your joints free and easy, or stiff and painful? Learn how your joints contribute to your everyday movement and happiness.
Live sessions with Hope on Tuesdays at 5–8 pm ET.
You will have access to the video recordings for 8 weeks after the program ends, until April 20.
In addition, you will have access to an online social community to connect and communicate with other participants about this course.
Continuing Education (CE) Opportunities
Testimonials
I thoroughly enjoyed Create Your Happy Body! Hope is an excellent teacher and the course was well-structured, with the right mix of instruction, demonstration, and practice. I learned a great deal from this experience which will benefit my yoga students and my personal practice. Hope is a gifted teacher and an all-around terrific human being! Wonderfully wise, absolutely delightful, and her passion and compassion shine through her teaching. I appreciated the way she took the time to discover what each program participant hoped to gain from the course to make sure she included that specific information over the weekend. And I love her warmth and generosity of spirit. Any time in a Hope Mell class is time well spent. Wonderfully wise, absolutely delightful, Hope is passionate about helping people live better in their bodies—and her enthusiasm is contagious! — Lee Manale

I love Hope's energy and passion for helping us to free our joints. She is extremely generous in sharing her knowledge, answering specific questions, and providing additional information resources. Even though this program was offered online, I found it to be so helpful—the sacral release was transformative. I really can't wait to take this course again at the ashram. Hope's knowledge of the body and her ability to communicate and articulate how to properly use our bodies and free our joints was beyond impressive. So much of the information was eye-opening for me. Hope's energy is infectious. She has a passion for sharing her deep knowledge of our joints, how we use our bodies, and how to correct issues that inhibit healthy movement. — Sherri Braxton
Presenter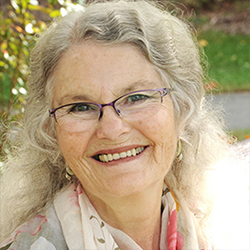 Hope Mell, RYT 500, ATT
Hope's passion and purpose are helping people find freedom in their bodies—freedom of movement and movement without pain. She found Integral Yoga® in 1967 and began her studies with Sri Swami Satchidananda. She was certified to teach Integral Yoga Hatha in 1974. Marjorie Barstow came into Hope's life in 1979, who taught her The Alexander Technique. She was certified to teach by the Alexander Alliance in Philadelphia in 1988. Hope earned her certification as a Structural Yoga Therapy teacher in 2005. For decades, she has refined her skills and developed an approach that combines the powers of Yoga and the…
Learn more about Hope Mell, RYT 500, ATT