Discovering and Maintaining Your Peace – Online
with Reverend Bhagavan Metro
January 16 - 17, 2021
One of Sri Gurudev Swami Satchidananda's most profound teachings was: "Always maintain your Peace". The philosophy and practices of Yoga support us as we pursue that goal.
In this online workshop, you will learn and practice powerful techniques to discover the peace within you, which is the basis of all consciousness, and ways to maintain that peace.
Topics include:
What is the "I am" state and where do we find it?
How do we maintain peace once we have found it?
What are the obstacles to keeping our peace?
How does peace do all the work for us?
How does peace speed us to self-realization?
Live sessions with Reverend Bhagavan on Saturday at 9:30–11 am and 2–3:30 pm, and Sunday at 9:30–11 am ET.
You will have access to the video recordings for 8 weeks after the program ends, until March 14.
In addition, you will have access to the Ashram's Live Hatha Yoga classes at 5 pm ET, recorded Ashram meditations, and inspiring talk with Sri Swami Satchidananda. You will also have access to an online social community to connect and communicate with other participants about this course.
Prerequisites
Steady meditation practice and at least a basic understanding of Jnana Yoga, the Yoga of wisdom and self-inquiry.
Continuing Education (CE) Opportunities
Testimonials
Rev. Bhagavan was very precise and helped us understand the nature of the mind. Very knowledgeable and friendly. — Past Participant

This program exceeded my expectations. It was informative, open, and grounded in spirituality. — Jamilla Peruit

Reverend Metro has an incredible sense of humor, exemplified love, and made Yoga accessible by incorporating "real world" experiences. — Crystal Fenwick

Strong and powerful presence. Great knowledge and example of practice and simplicity. — Past Participant
Presenter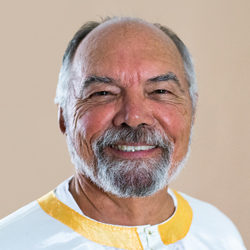 Reverend Bhagavan Metro
Reverend Bhagavan Metro has been a devotee of Sri Swami Satchidananda since 1973 and has lived at Satchidananda Ashram–Yogaville, Virginia since 1981. Reverend Bhagavan is a certified Integral Yoga instructor and was ordained as a minister of Integral Yoga in 1980. He has served as a member of the Integral Yoga Ministry Board for over 15 years and has served as past chairman of the board. Bhagavan was the Integral Yoga Ministry Seminary director for many years and currently sits on the Spiritual Life Board. As co-owner of New Age Builders, he built many of the buildings at the Ashram…
Learn more about Reverend Bhagavan Metro