Moving into Bliss – Online
with Debora Nitya Jackson, E-RYT 500
December 4 - 18, 2020
Fridays: Dec. 4, 11, and 18
Move into bliss as you explore the layers of our existence through the yogic koshas model and the practice of Yoga Nidra during this online workshop.
According to Yoga philosophy, we are more than just the physical body or mind: we are holistic, multidimensional beings made up of many different, interactive layers. In the Yoga framework, these layers are referred to as the Pancha Maya Kosha, the five sheaths of our being, which include the body, prana (life force), mind, wisdom, and bliss layers.
Yoga Nidra, or yogic sleep, is a guided meditation and relaxation practice based on the five koshas that helps the body and mind relax deeply and induces better sleep naturally. In the practice of Yoga Nidra, the awareness journeys through each layer, one at a time, moving toward the bliss within.
Come explore these layers with us. Each session will be a dynamic combination of lecture and practice.
Live sessions with Nitya on Fridays at 7–8:45 pm ET.
You will have access to the video recordings for 8 weeks after the program ends, until February 12, 2021.
In addition, you will have access to the Ashram's Live Hatha Yoga classes at 5 pm ET and access to an online social community to connect and communicate with other participants about this course.
Continuing Education (CE) Opportunities
Testimonials
So far, I have gone on two of Debora's retreats to Yogaville, and each time I leave with such an amazing energy. Debora's program really helps me to deeply unwind and regain my focus. It's the perfect balance of movement and meditation. Each time she attracts great attendees to share the experience. Debora is not only a kind and supportive instructor, but also super fun and lighthearted. I am so glad I took a chance on that first retreat with her. I can't wait until the next one! — Stefanie A.

The material was very informative. It was presented really well, not only academically but spiritually. The teacher alternated really well between the material with much-needed Yoga breaks that helped us feel the best body, mind, and soul. — Olimbi Cela
Presenter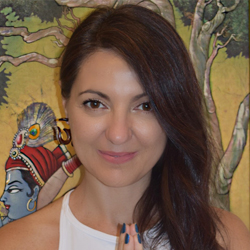 Debora Nitya Jackson, E-RYT 500
Debora Nitya has over a decade of teaching experience and has trained over 100 Yoga teachers in the Washington DC area. She brings her sense of humor to every class she teaches and is committed to helping her students realize their full potential. Nitya is certified in Integral Yoga® Hatha, Himalayan Institute 500-hour Teacher Training, Ayurvedic Yoga Therapy through Mukunda Stiles and the Chopra Center. She teaches Yoga to people from all walks of life in the most diverse settings, including hospitals.
Learn more about Debora Nitya Jackson, E-RYT 500