Take Back Your Power – Online
with Swami Vidyananda, E-RYT 500, C-IAYT
December 5 - 12, 2020
Saturdays: Dec. 5 and 12, 2020

Yoga can teach you to reclaim your inner power and peace in a rapidly changing world. In this online workshop, you will learn simple Yoga tools to build resilience, release stress, and find strength in the midst of confusion.
It often feels like the world is out of balance and seeing the news can create feelings of helplessness and hopelessness. Yoga can help you know when and how to act, and how to conserve your energy to be an effective agent for positive change in the world.
This workshop will include:
Easy Yoga stretches and relaxation techniques to help reduce anxiety and exhaustion
Comfortable breathing techniques for portable stress release
Simple mental attitudes to maintain your inner balance
Tips to handle the anxiety that comes from so many unknowns in our current world
Live sessions with Swami Vidyananda on both Saturdays at 10 am–12:30 pm and 2–4 pm ET.
In addition, you will have access to the Ashram's Live Hatha Yoga classes at 5 pm ET, recorded Ashram meditations, and inspiring talks with Sri Swami Satchidananda. You will also have access to an online social community to connect and communicate with other participants about this course.
You will have access to the video recordings for 8 weeks after the program ends, until February 6, 2021.
Continuing Education (CE) Opportunities
Testimonials
Swami Vidyananda is remarkable, compassionate, knowledgeable, straightforward, and funny. It was a pleasure to have this opportunity to learn from her. — Rashmi Galliano

Swami Vidyananda is a master at anything she teaches. — Doug (Madhavan) Weatherley

It is truly inspiring to learn from a lifelong devotee of Swami Satchidananda such as Swami Vidyananda! Her heart and humor shine through beautifully! — Jon Lolley
Presenter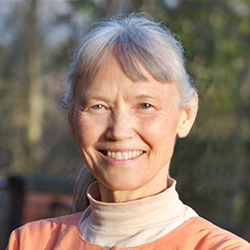 Swami Vidyananda, E-RYT 500, C-IAYT
Swami Vidyananda began practicing Yoga in 1969 and has been teaching Integral Yoga® and training Yoga teachers since 1973. She became a swami (monastic) in 1983. She has taught and trained Yoga and meditation teachers throughout the US and Canada, as well as Australia, Europe, and India. She presently lives at Satchidananda Ashram–Yogaville, VA, where she teaches all branches of Integral Yoga, including Hatha, Raja, and Jnana Yoga, meditation, and yogic lifestyle. She continues to travel widely, training Yoga teachers and offering workshops on meditation, stress management, Yoga and the emotions, and mid-life meaning. Before becoming a Yoga teacher, Vidyananda…
Learn more about Swami Vidyananda, E-RYT 500, C-IAYT